When we stepped off the boat from Bali and onto the small island of Gili Air, we instantly fell in love. It could have had something to do with finally being on land after the slightly terrifying two-hour boat ride, but we knew we had found paradise. Surrounded by clear, turquoise water, with fine, white sand and no cars or motorbikes (there are no roads, only sand), we felt any and all stress melt away.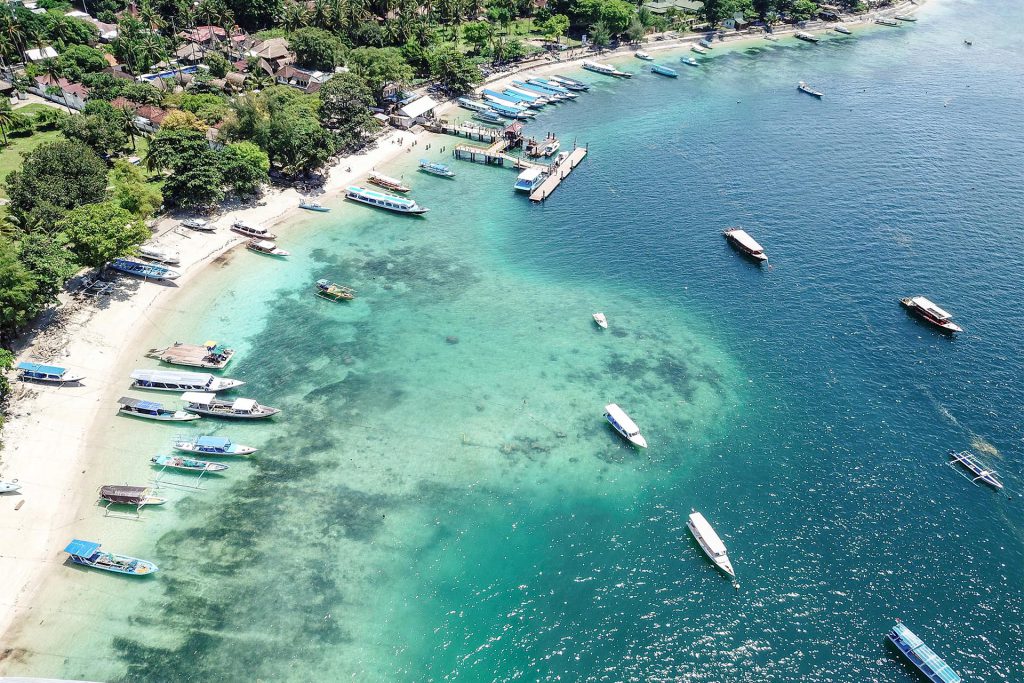 Gili Air is one of three Gili Islands – Gili Trawangan, Gili Meno and Gili Air – that people visit off the coast of Lombok near Bali. Gili Trawangan (or Gili T as it's more widely known) is the party island and has the most to do of the three islands, with numerous restaurants, bars, and dance parties; Gili Meno is the smallest, quietest and most underdeveloped of the three islands; and Gili Air meets them both in the middle with a relaxed feel along with great diving, cute restaurants, and low-key beach bars to take in the sunset. It felt just right for us.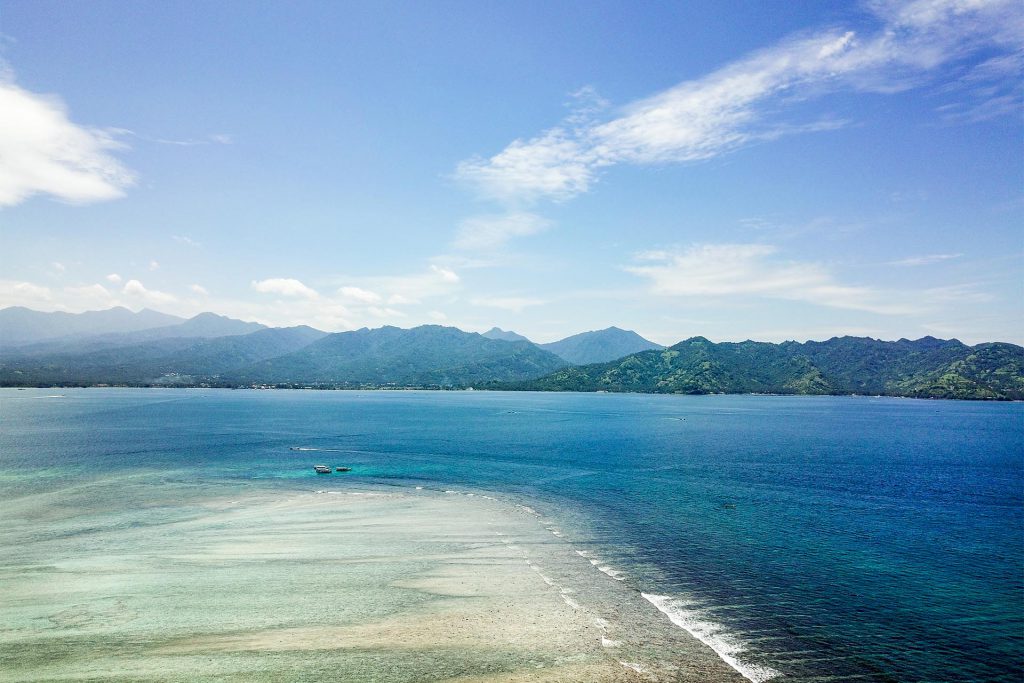 After spending time on this piece of paradise, we feel like it's our duty to spread the word and let everyone know what could be waiting for you just off the coast of Bali. Here is our roundup of activities and things to know about Gili Air (and by the end of this post, we're sure you'll be convinced to add Gili Air to the top of your travel bucket list).
What to do:
Explore: Gili Air is small enough that the entire perimeter of the island is walkable in a little over an hour, or, for the cycling enthusiasts, you can rent a bike instead (just make sure you get one with big tires to handle the sand). We highly recommend taking the time to explore the island, especially if you've just come from Bali. Not having to worry about the crazy traffic or constant horn honking is relaxing in itself! The only "vehicles" you have to be mindful of are the horse and carriages that transport visitors around the island. (Side note: unfortunately, the Gili's have a bad reputation for how the horses are treated. We were unaware of this mistreatment when we first arrived and did take a horse and carriage ride from the boat port to our hotel).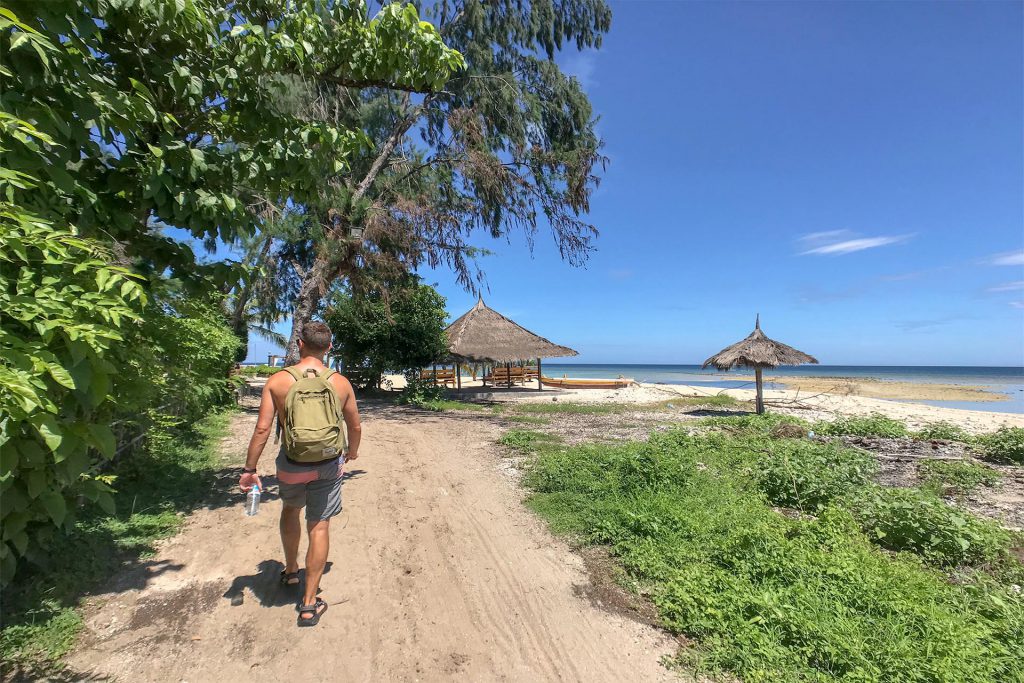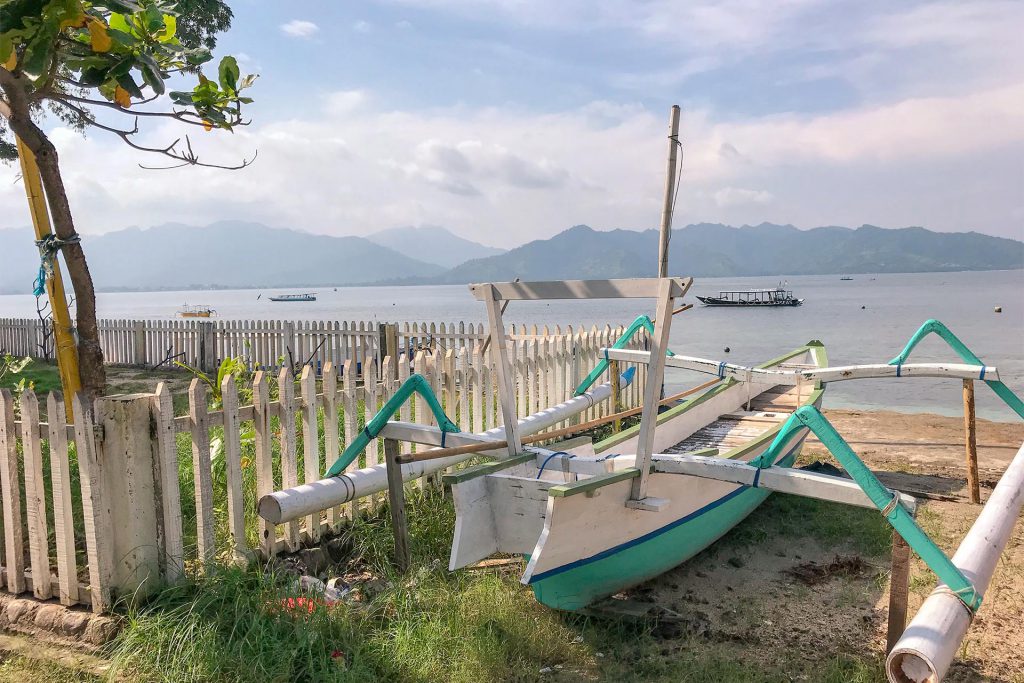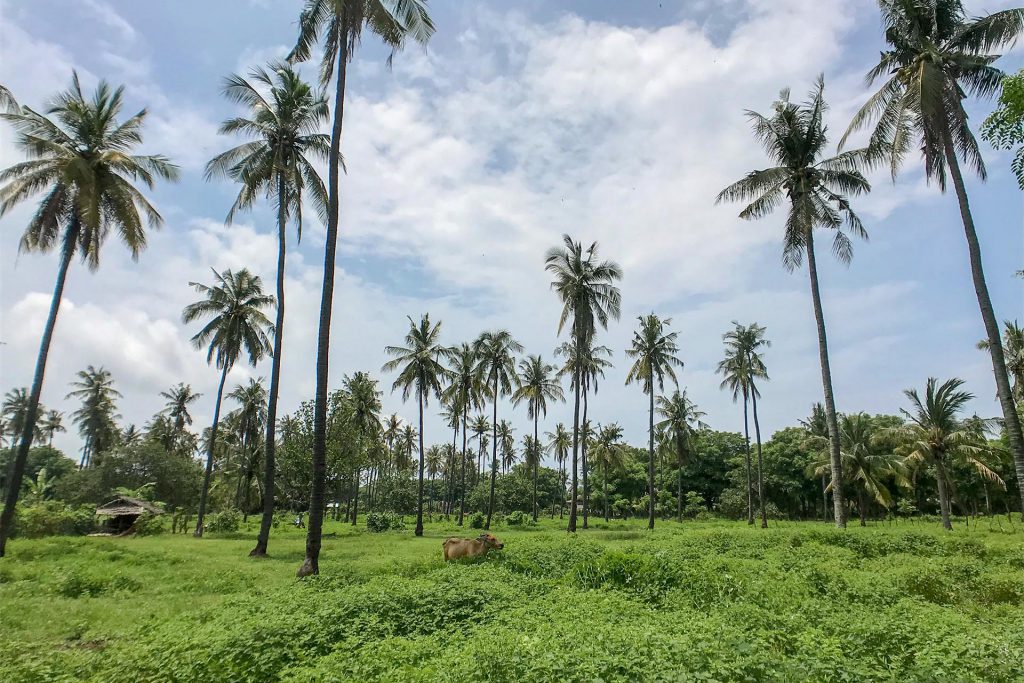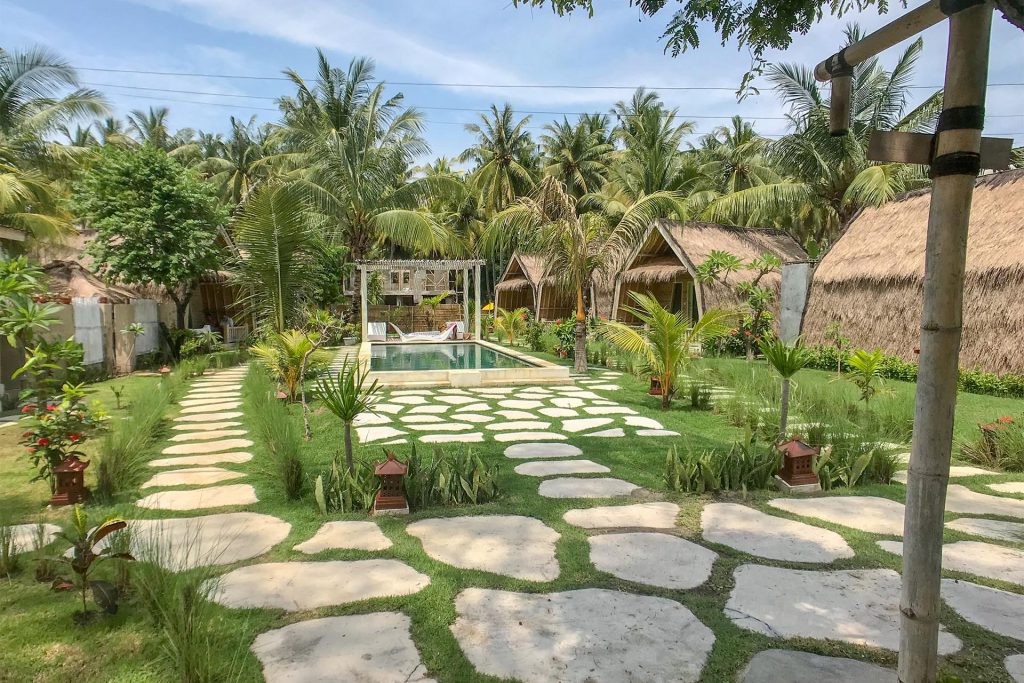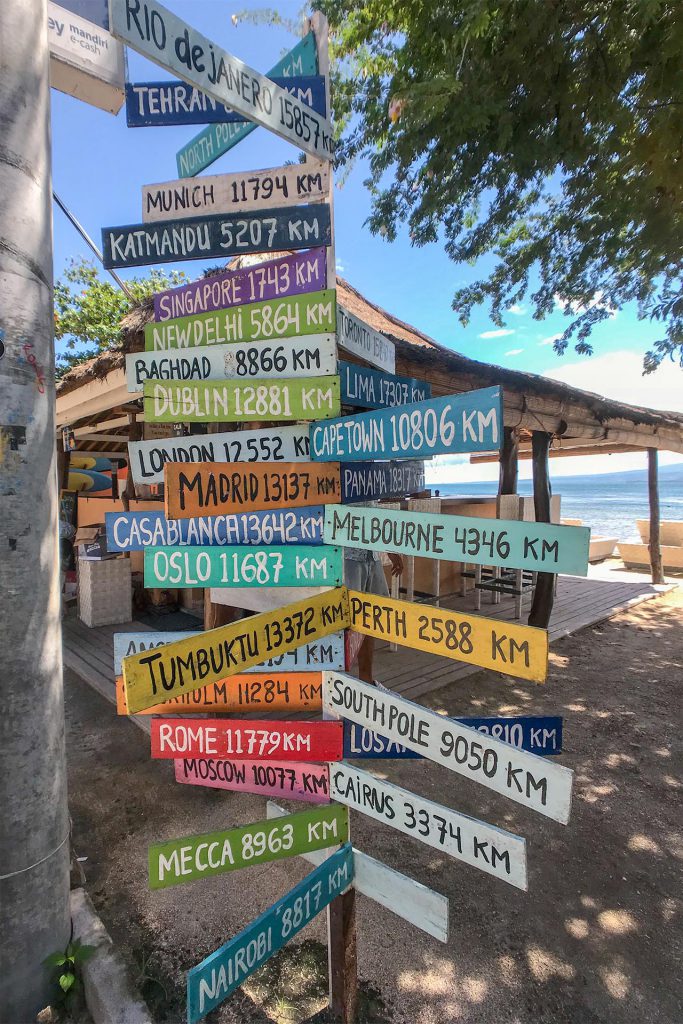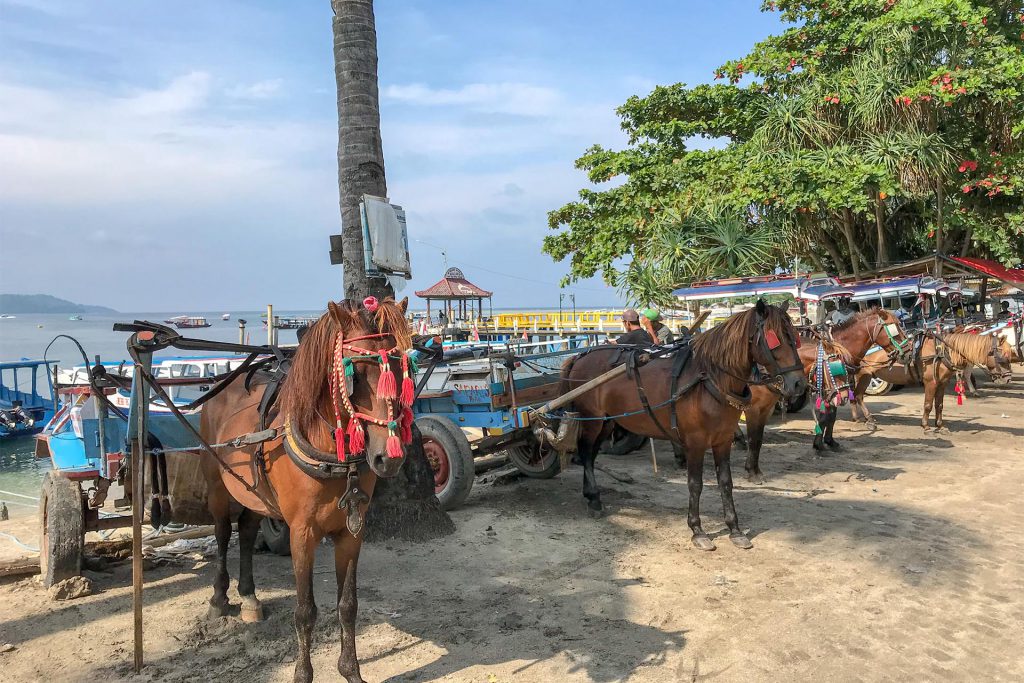 Relax: Gili air is an idyllic setting to just chill out and appreciate the surroundings. There are so many ways to unwind here – lay out on the beach, wade in the shallow, dazzling turquoise water, relax in a hammock (on the beach or in the water), or sip on a tea or tropical drink at one of the many laid-back beach bars.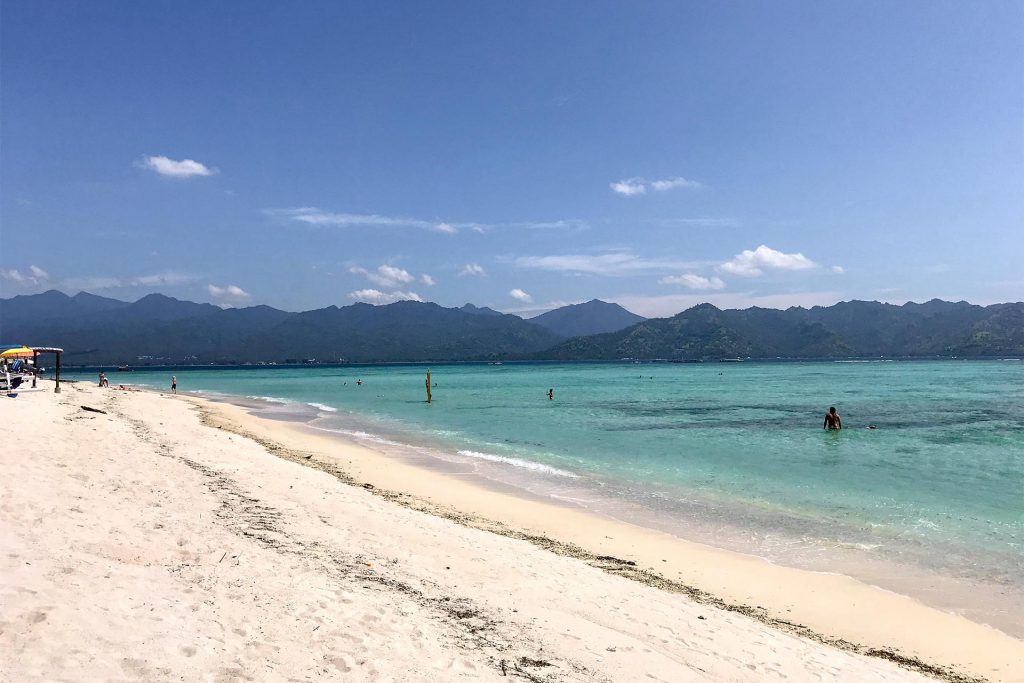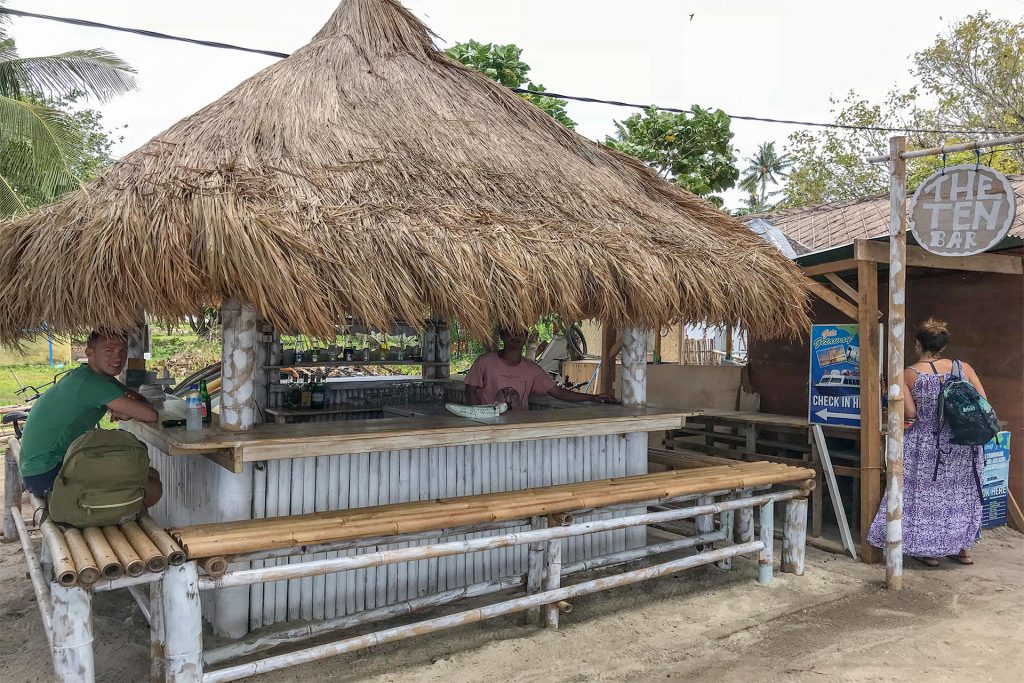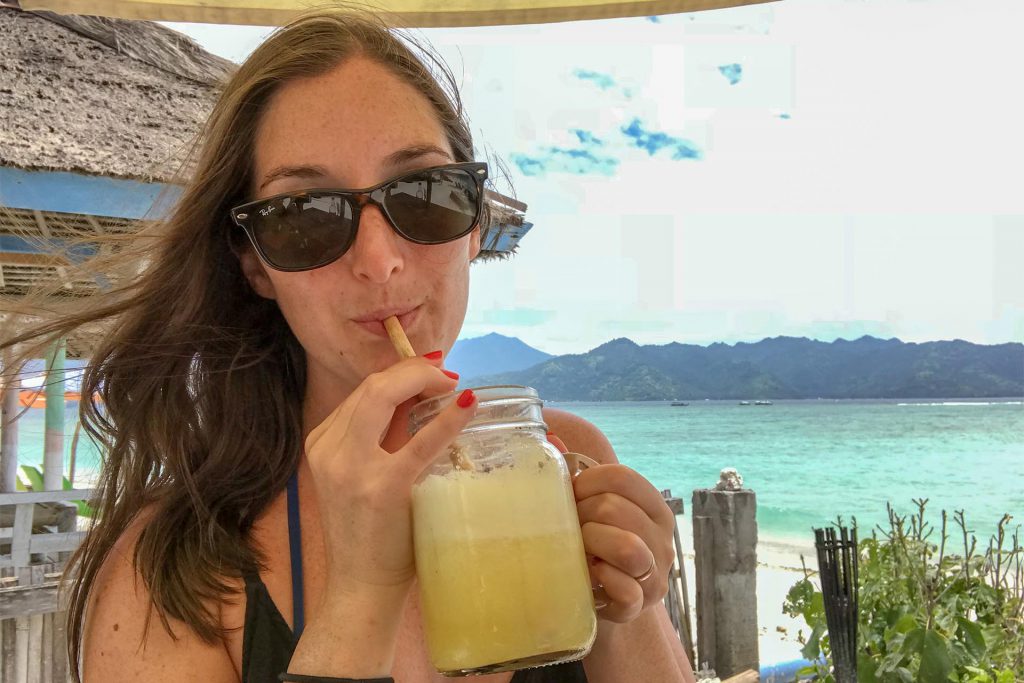 Swing in the sea: Play on one of the many water swings located around the island and get a classic Gili swing shot for your Instagram or photo album.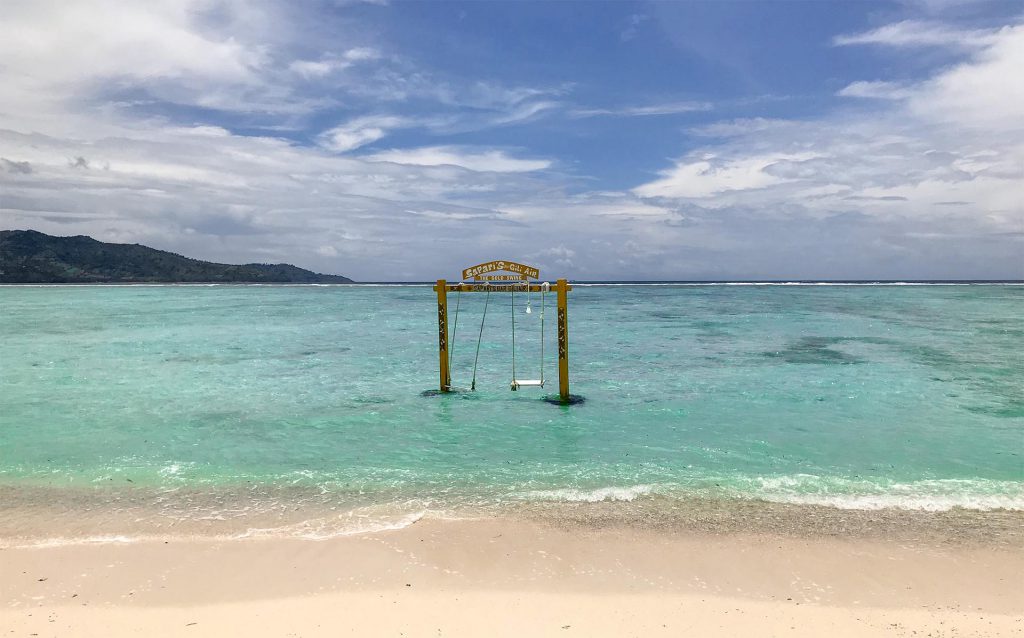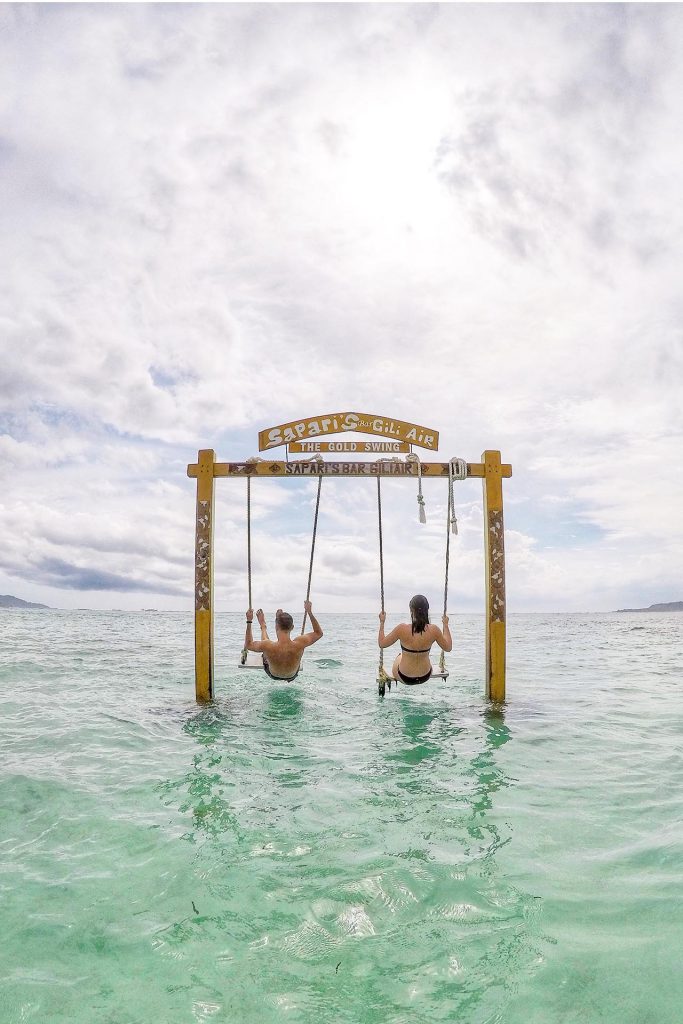 Snorkel: Although we didn't snorkel or scuba dive while on the island, it's one of the things that the Gili's are known for. With the beautiful crystal clear turquoise water, there is an abundance of colourful underwater life. We hear that the snorkeling on the east side of Gili Air is amazing with lots of sea turtles.
Watch the sunset: The Gili islands have absolutely stunning sunsets. We watched the sun go down from a beanbag at one of the many beach restaurants on the West side of the Island every single night, and it never got old (and we were there in rainy season, so we can only imagine what sunsets look like without the cloud coverage).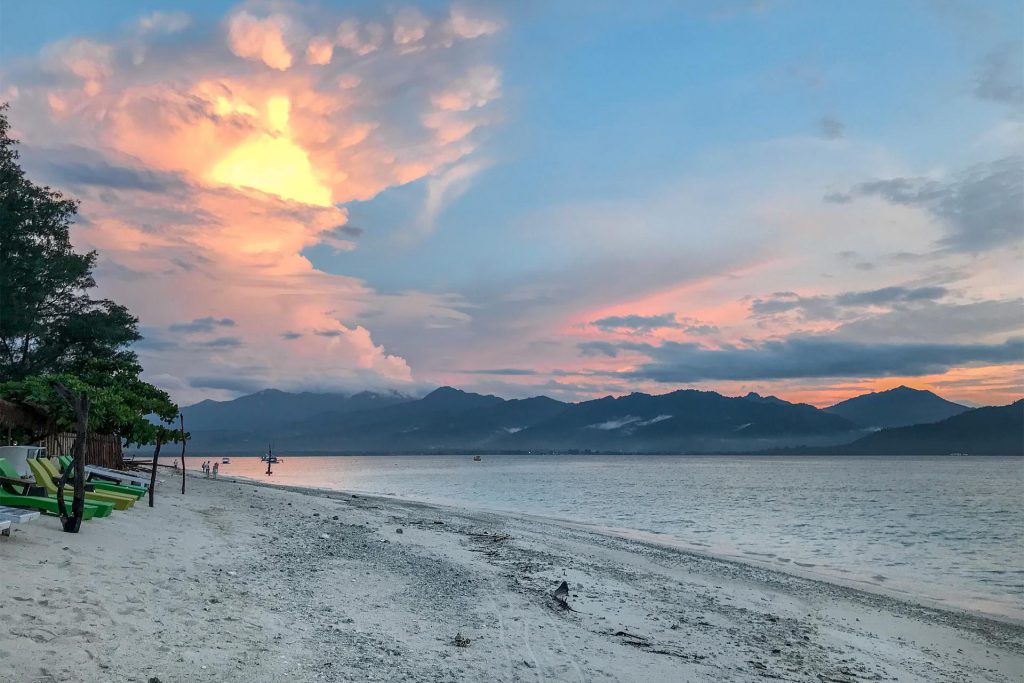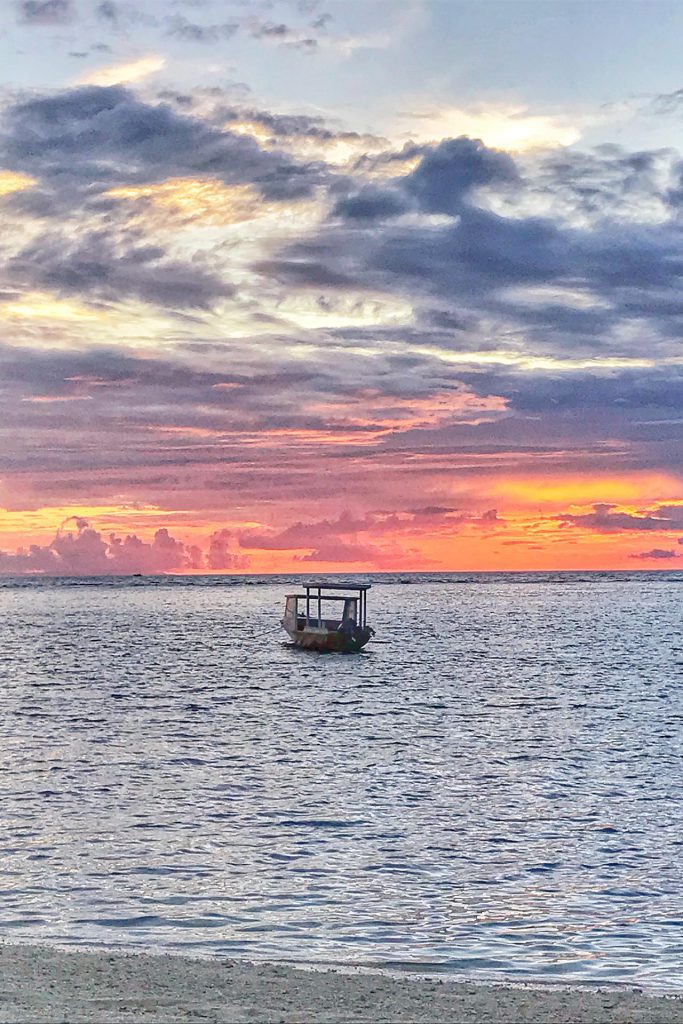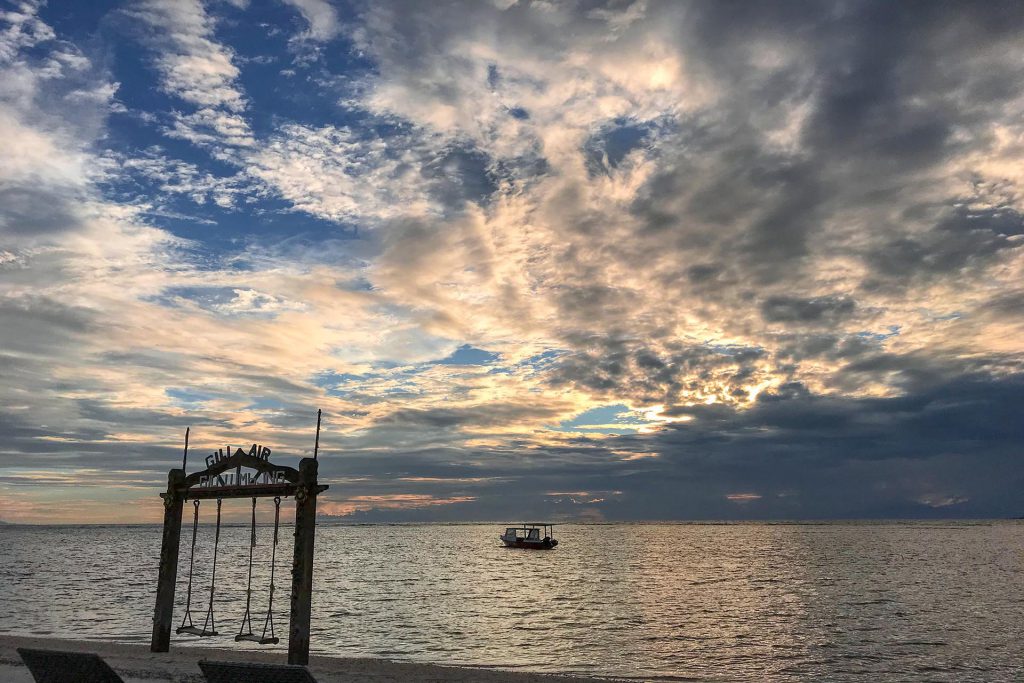 Movies on the beach: What better way to enjoy a movie on an island than on a beach in the open air? Hotel Ombak Paradise on the West side of Gili Air offers movies on the beach almost every night (if not every night) and it was a great way to spend an evening. It was raining when we were there, but they have a covered area, so we were still able to watch our movie in the sand.
Where to stay:
The biggest selection of bars and restaurants is on the South-West and South-East sides of Gili Air. We decided to stay on the South-West side of the island for its dramatic sunsets and food options. Once there, we also discovered that the Westside seemed less busy (although nowhere on the island ever seemed crowded) and there were spots where you could have a section of the beach all to yourself. We stayed at Mola2 Resort and were very happy with the rooms, the pool (even in the rain) and the fact that it was steps away from the beautiful white-sand beach.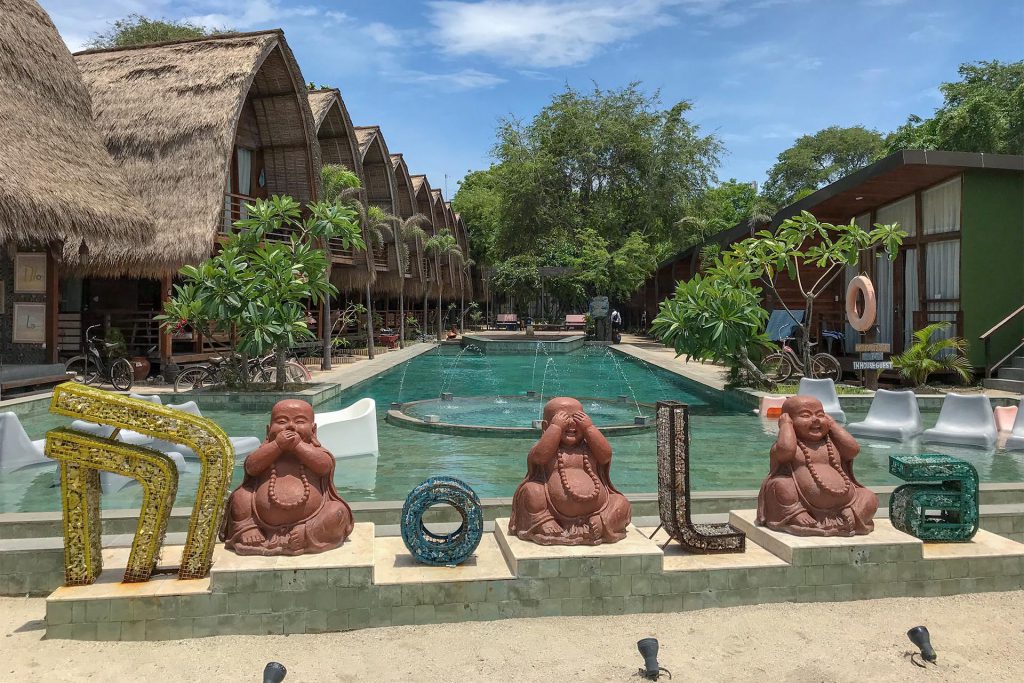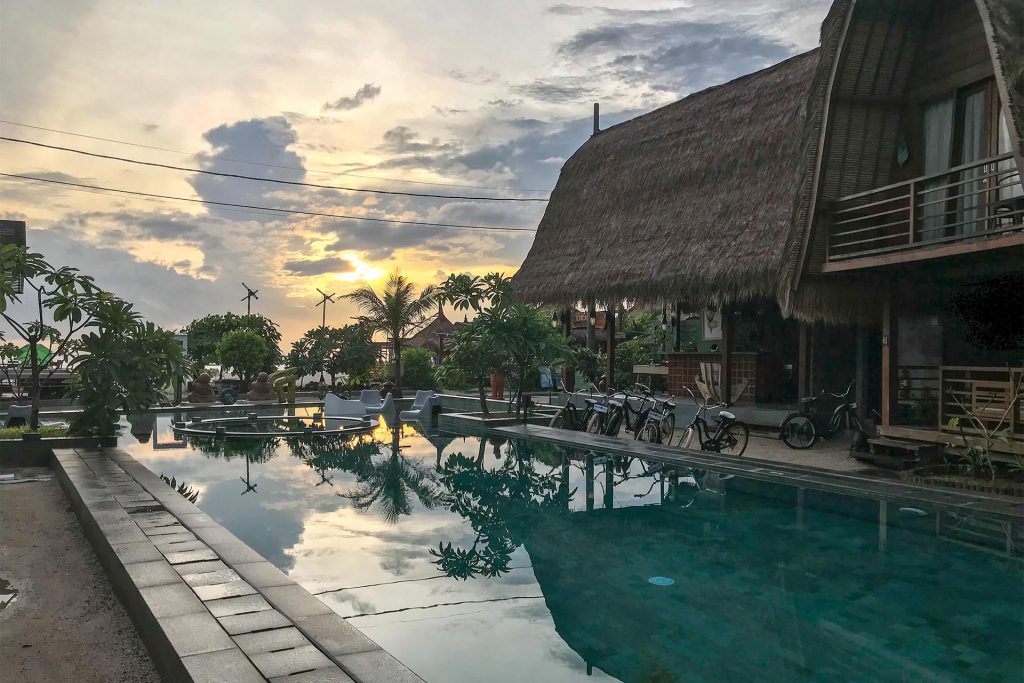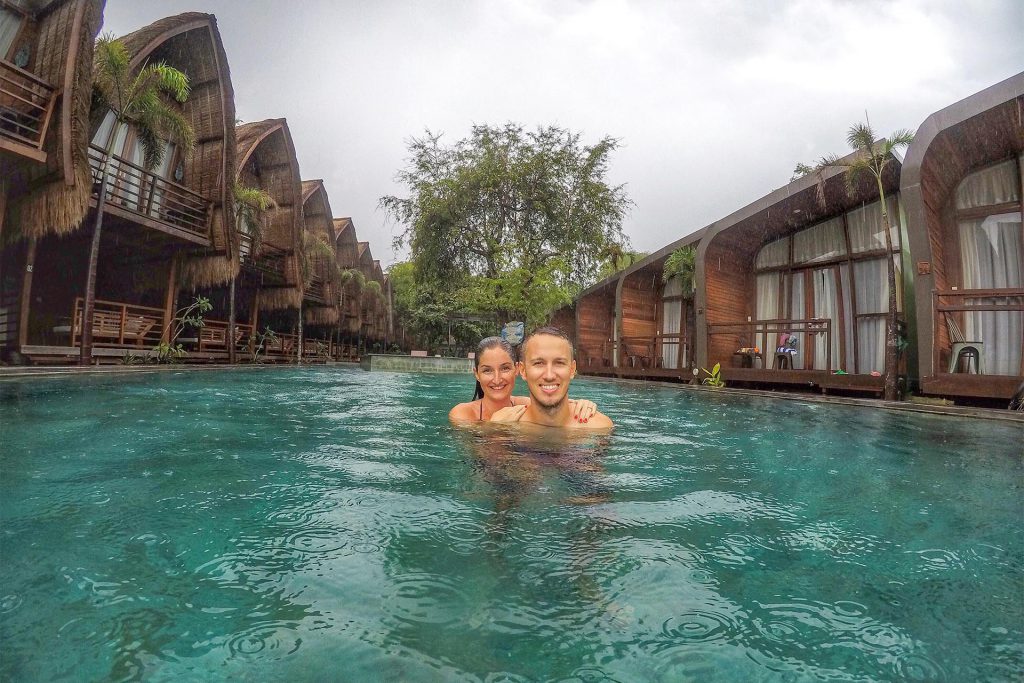 The Northside has the smallest selection of restaurants and bars and seems quite remote. This would be the place to stay if you're looking for solitude and privacy.
On the Eastern side, you'll find far more resorts, restaurants, and bars. If you prefer to be closer to the action, this may be a better choice for you. We enjoy walking, so we didn't mind having to walk a for a while to get there. One thing to note about the East side though is that the beach here gets quite busy during the day with dive boats and snorkelers, so it doesn't feel as remote as other parts of the island.
Where to eat:
Surprisingly, there was a range of food available on Gili Air, from Indonesian to Italian, to western food, to vegan, we felt like we had plenty of options to choose from, and all were pretty easy on the wallet.
Our top spots were Mowie's on the Beach, located on the South-West side with great sunset views, this restaurant serves burgers and other other organic western fare and has bean bags on the beach for a perfect, laid-back dinner; Chill Out Bar & Bungalows for breakfast, where we had amazing Mei Goreng and freshly squeezed juice for cheap (located on the South-East side); Good Earth Café, tucked away on the grounds of H20 Yoga, which is inland on the East side, serves healthy vegetarian smoothies and food and was great for lighter fare; and finally, Gili Lumbung on the West side was our absolute favourite. Sitting directly on the beach with bean bags, it's the perfect spot to enjoy the sunset. This bar has a really fun, relaxed atmosphere with good music, friendly staff and drink specials, as well as delicious pasta and burgers.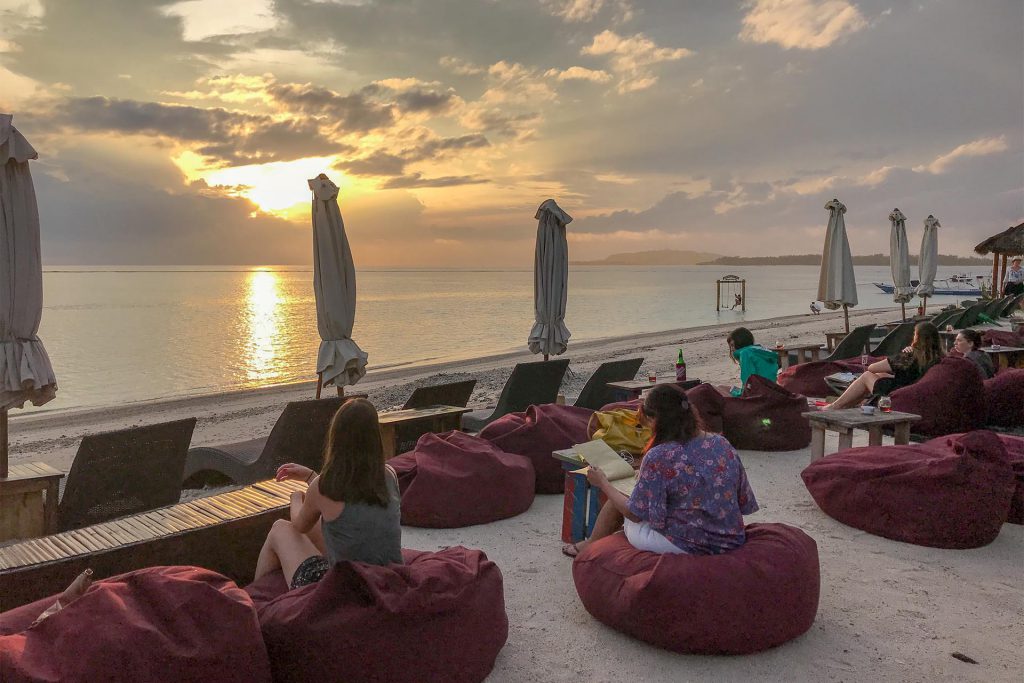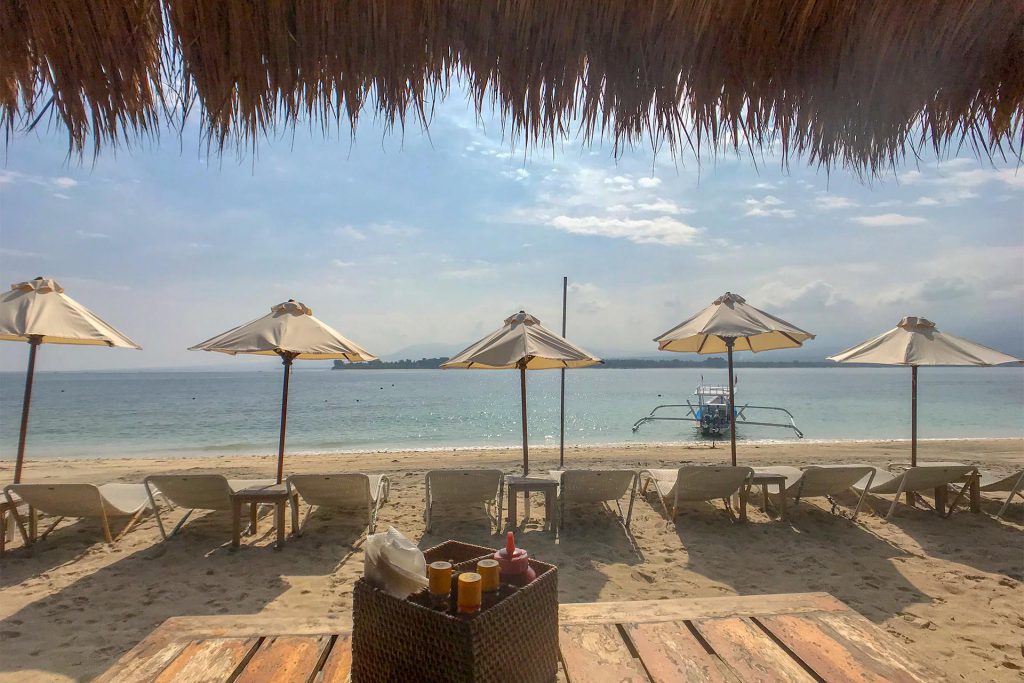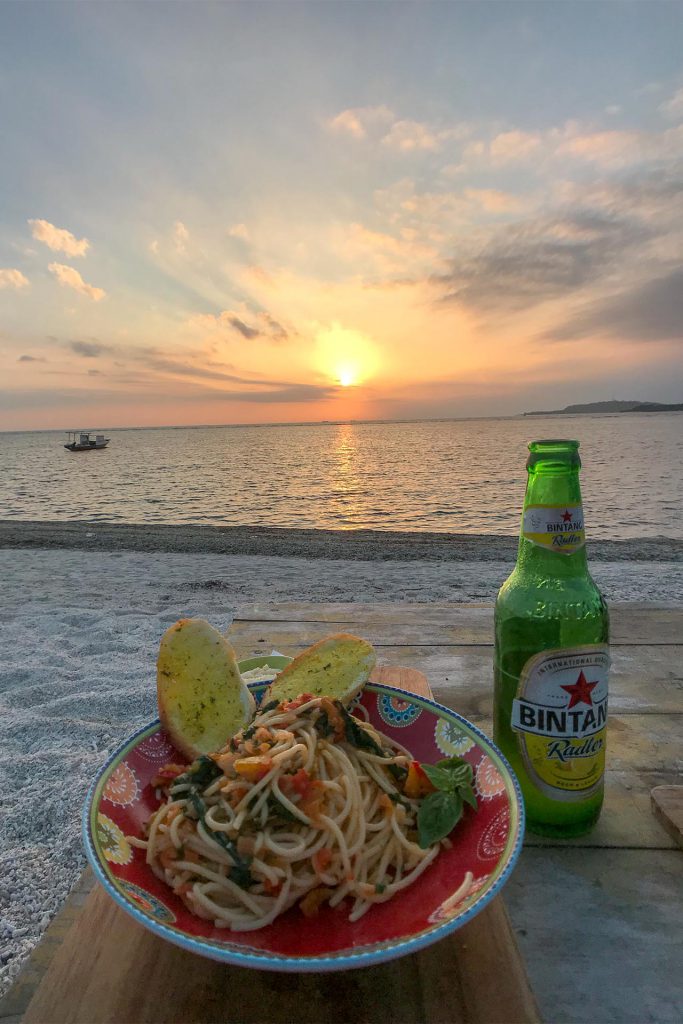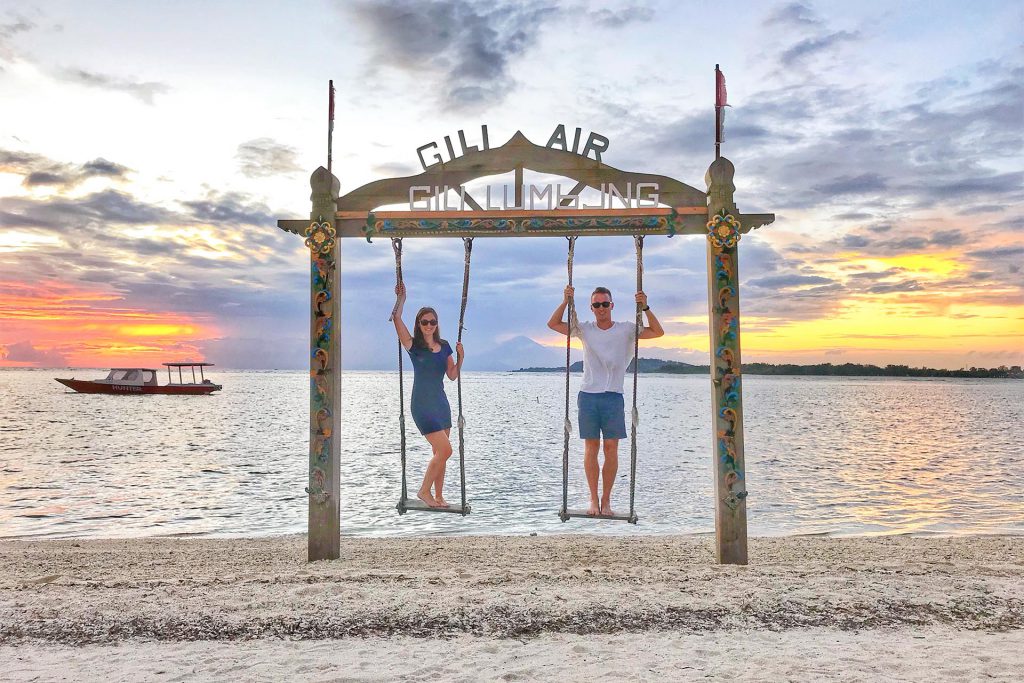 What to know:
How to get there: The fast boat is the easiest way to get to Gili Air from Bali. There is a ferry option from Bali to the Gilis, which can take up to five hours or more, so most people choose the fast boat which takes 1.5 to 2 hours from Padang Bai.
The fast boat to Gili Air from Bali goes from a few different ports: Benoa, Sanur, Padang Bai and Amed. We chose to leave from Padang Bai because it was closer to our land transfer and was the shortest time on the water. There are a lot of horror stories about these fast boats due to the lack of safety standards for boats in Indonesia, so do some research beforehand to see which boat you feel most comfortable with based on online reviews (don't choose based on cheapest price alone).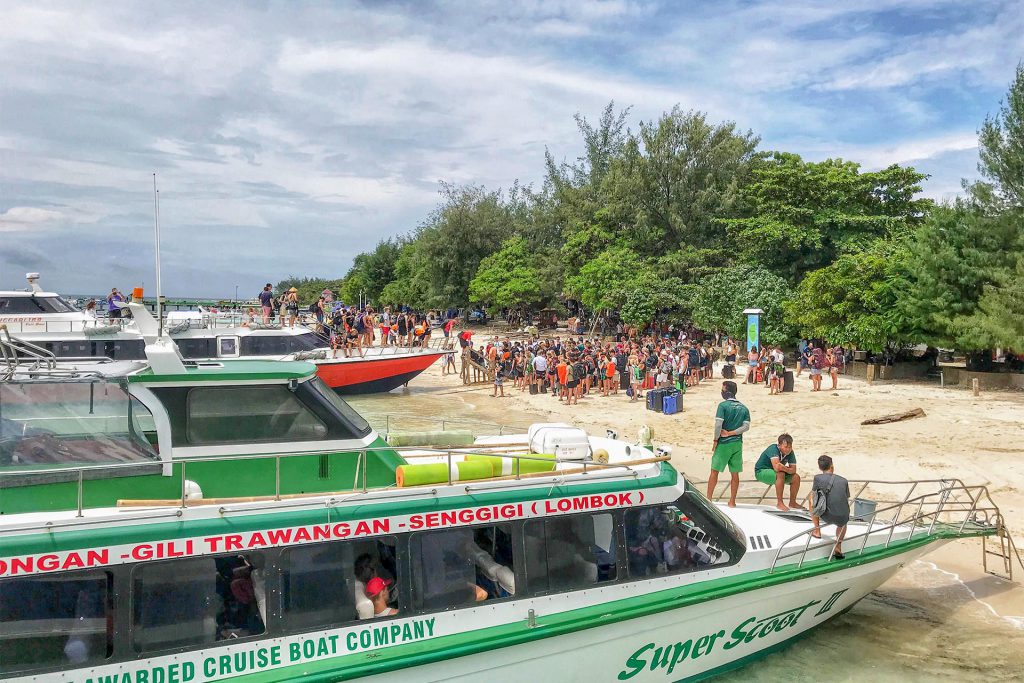 ATMs: There are only three ATMs on the entire island and sometimes they run out of money, so it's a good idea to bring cash with you from Bali, just in case.
How long to stay: We stayed on Gili Air for four nights and we could have even stayed longer – we really didn't want to leave. We would recommend staying for at least three nights if you can since the travel days do end up being pretty long, plus its paradise, so why rush back?
Final thoughts:
This jewel in the Bali Sea will take your breath away. If you're planning a trip to Bali, you should really add Gili Air to your list. The long travel day and unnerving fast-boat are more than worth the effort. Once you are sitting on the white sand beach with a drink in your hand and sunset in front of you, the only thing you'll be asking yourself is why you didn't get here sooner.