If you're like us, you've likely already heard about Fraser Island from friends who've travelled Australia (literally every single person we talked to before our trip said we had to go to the world-heritage listed island), but you may not know why it's worth the hype. Here's why: it's the world's largest sand island (with approximately 316 kilometers of coastline), and boasts dynamic landscapes and natural wonders. The island is full of adventures from trekking through the rainforest to swimming in beautiful perched lakes, climbing sand dunes, driving down the beach beside the ocean on a highway made of sand (road signs and all), spotting dingoes, and exploring shipwrecks. You really never know what to expect around each corner.
In our research, and through talking to friends, we discovered that there are a few different ways to see the island, depending on your preferences and budget. Dom and I opted for a three-day, two-night guided tour with Cool Dingo, because to us, it checked all of the boxes. We welcomed a break from driving (especially considering the unfamiliar sandy terrain of Fraser Island), were excited to sit back and relax while someone else took care of the itinerary, and wanted to see all of the island's best spots without rushing through it.
The Cool Dingo Tour is an all-inclusive trip that's aimed at 18 to 35-year-olds with a sense of adventure. It's an action-packed few days that are all about visiting iconic spots, learning about Fraser's history through the funny and knowledgeable tour guides (shout out to our awesome guides – hey Gaz and Andy!), and meeting other like-minded travellers.
Here's what we fit into our three days on the island:

Day 1:
We got to the island in the morning via ferry and our Cool Dingo 4WD bus was waiting for us as soon as we disembarked. The Island's roads are all sand, so we were thankful to have our experienced guides to navigate the off-road terrain.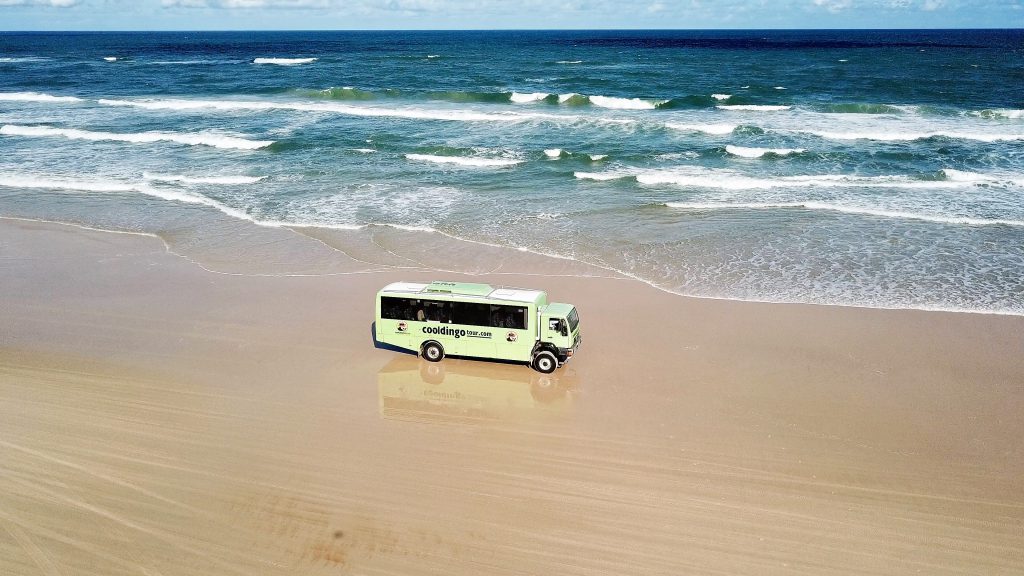 Our first day started off on a very rainy note, which was definitely a bit of a bummer (although it is rainy season after all, so that's to be expected from time to time). We weren't going to let a little rain slow us down though, so we threw on some raincoats and made the best of it with the rest of our group.
The first stop on the tour was for a quick look at Basin Lake, followed by a walk through the rainforest (somehow growing in sandy dunes?!) and the valley formed by Wanggoolba Creek. Although beautiful, I didn't love the rainforest walk, but only because it was raining, and I was still traumatized from being bitten by leeches a few weeks prior.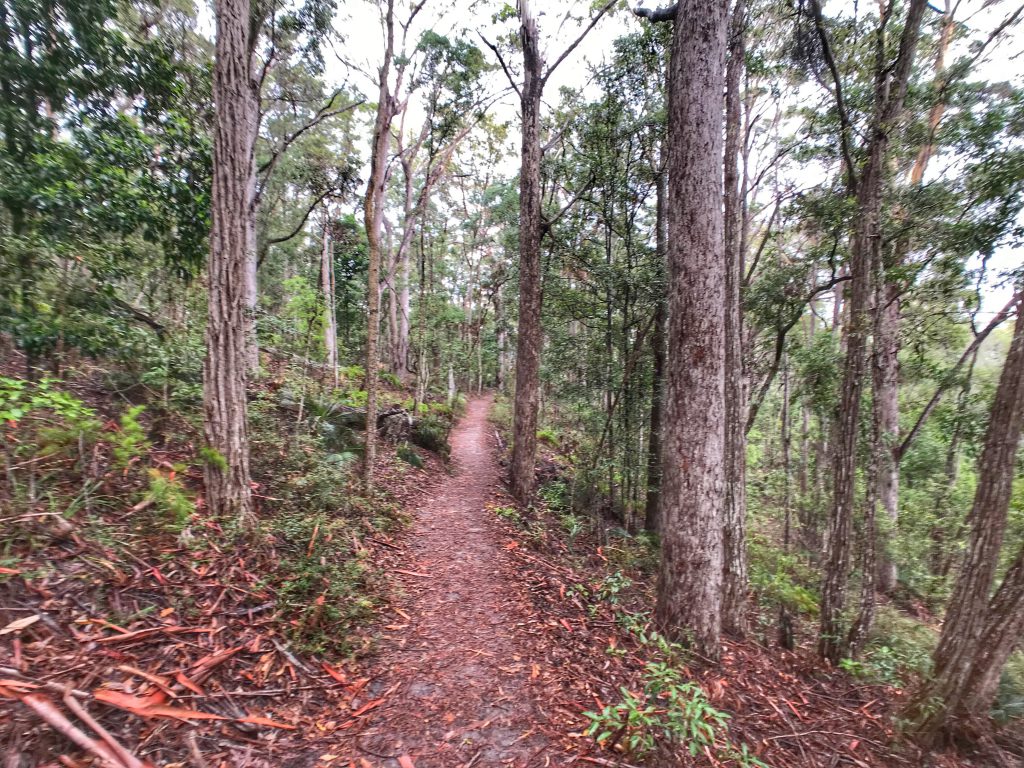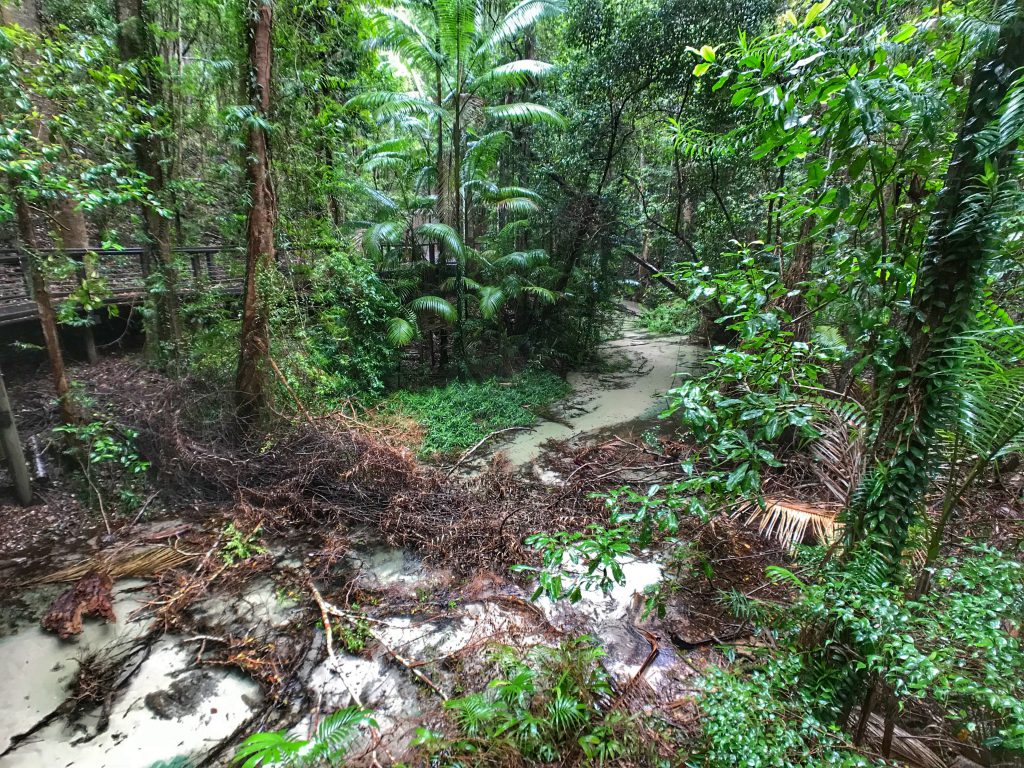 Next up was the famous Lake McKenzie. Lake McKenzie is one of Fraser's over 100 freshwater lakes (and the most iconic on the island), and we can see why it's so popular. We sadly didn't get to see it at it's best because of the dreary day, but it was still pretty fantastic with its white-as-snow sand and clear blue water.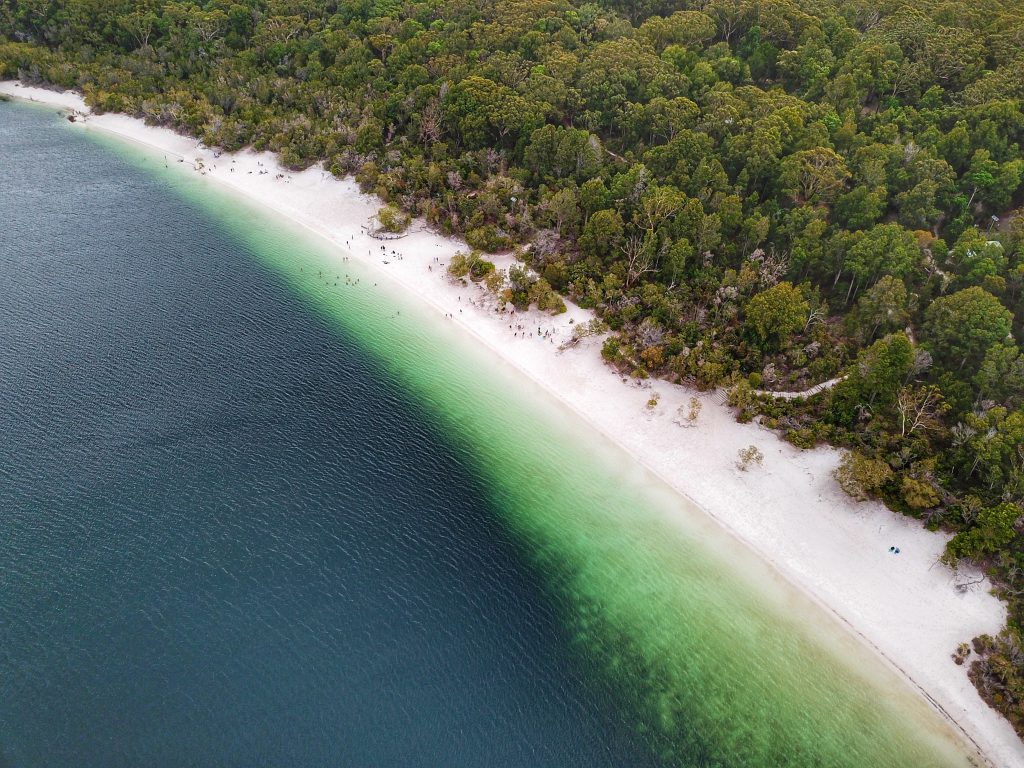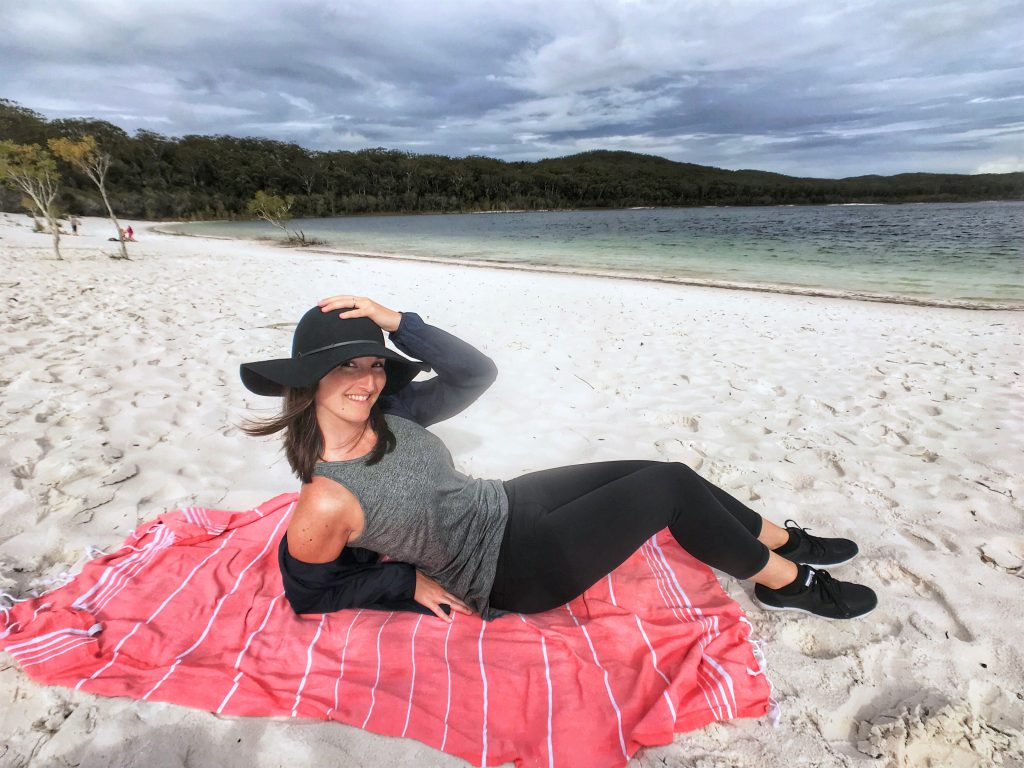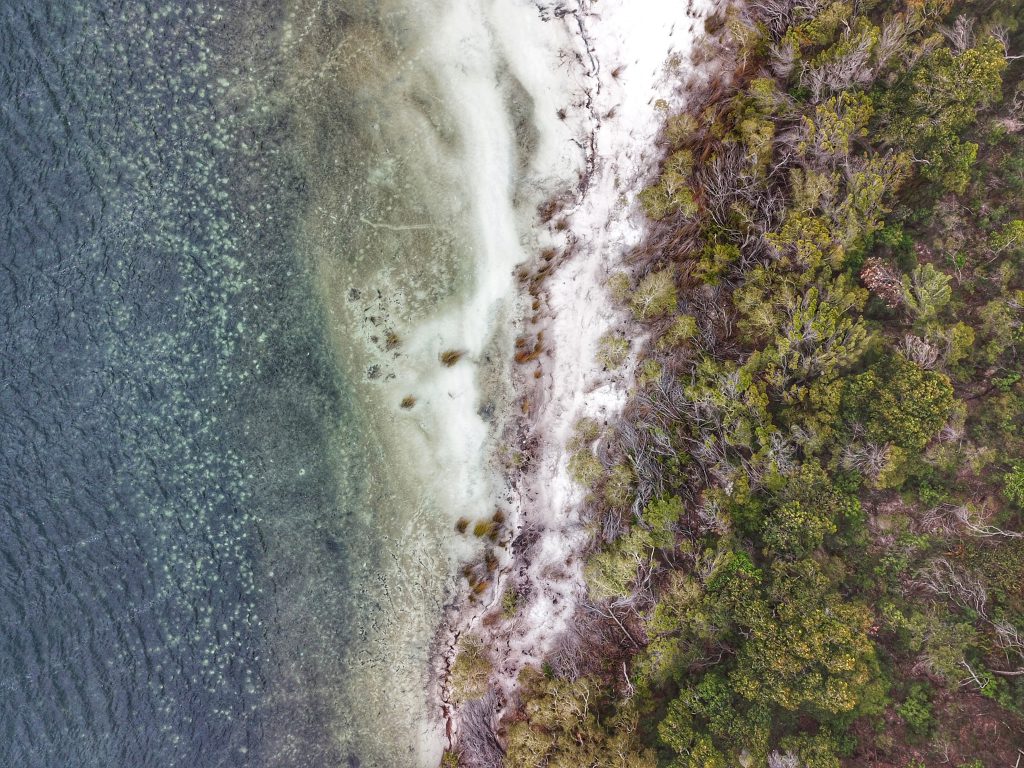 We wrapped the day up at the Dingo Bar where we ate our dinner (all-you-can-eat buffet) and hung around to watch a game of beer pong before retreating to the resort for the night.
Day 2:
We got up bright and early on day two, and after breakfast headed straight for 75 Mile Beach, which is an actual highway along the ocean on the beach. It's also used as a runway at points, so cars have to give way to the six-seater planes landing on the beach (how insanely cool is that?). We also spotted our first dingo pup out the window as we drove down the beach.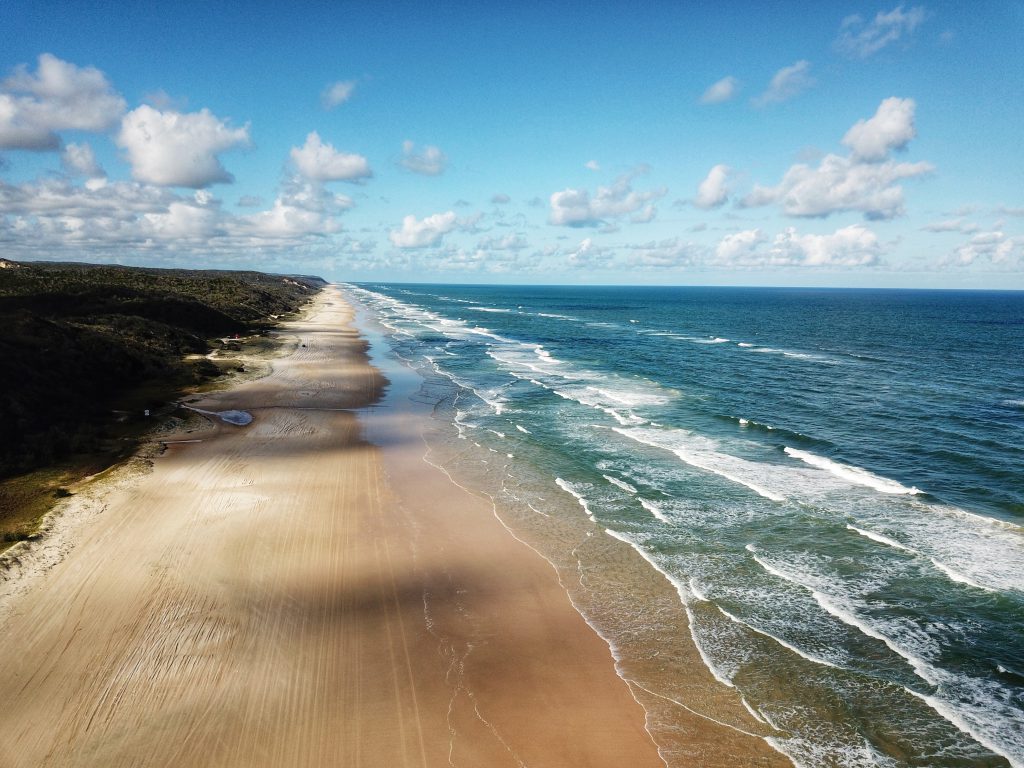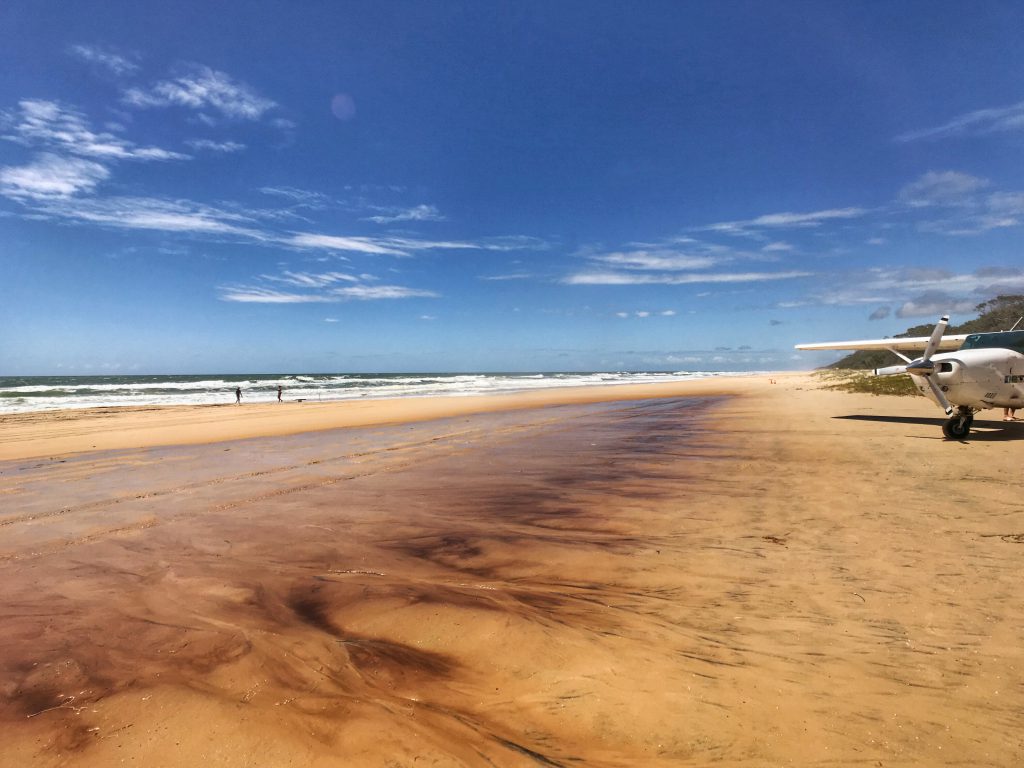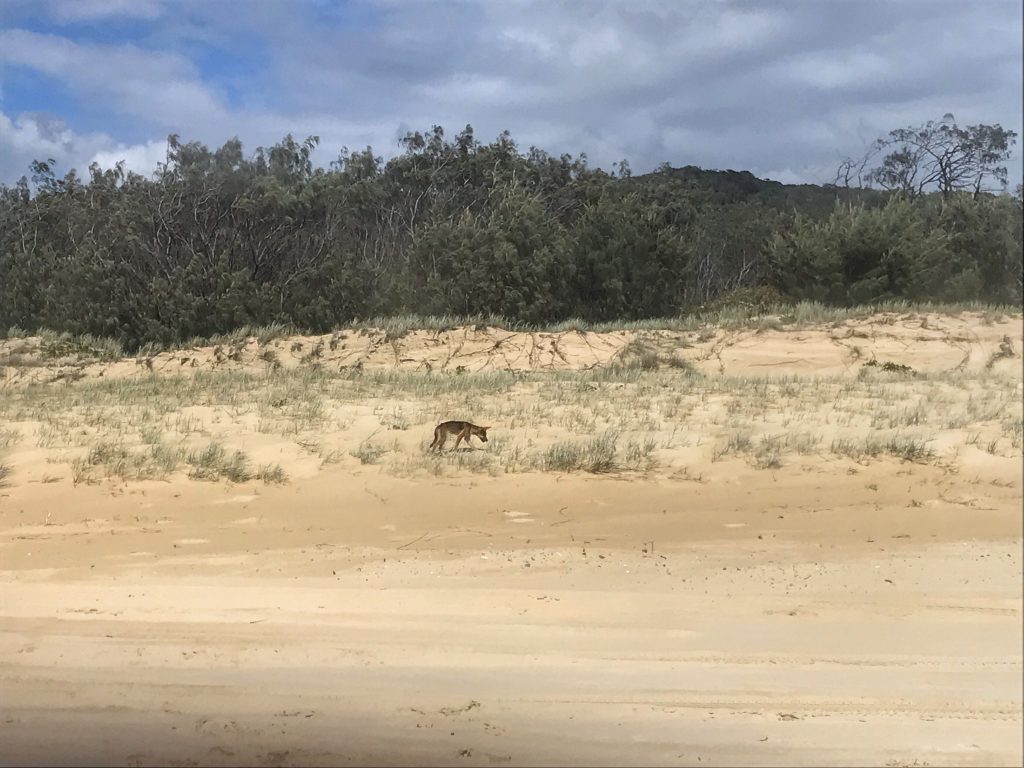 Our first stop was at Eli Creek, a pristine creek you can innertube down right off of 75 Mile Beach. This one surprised us because it wasn't something that was originally on our radar but ended up being our favourite spot on the island. We had so much fun floating down the lake, that we did it over and over again. Dom even brought the drone into the creek to follow me as I drifted along.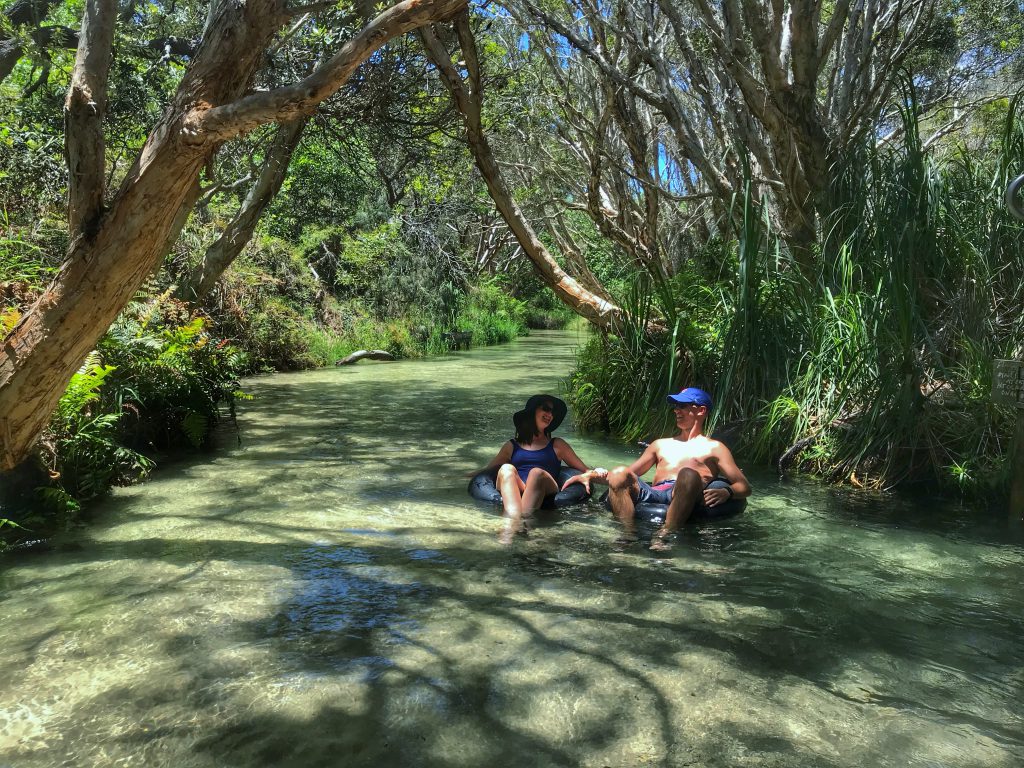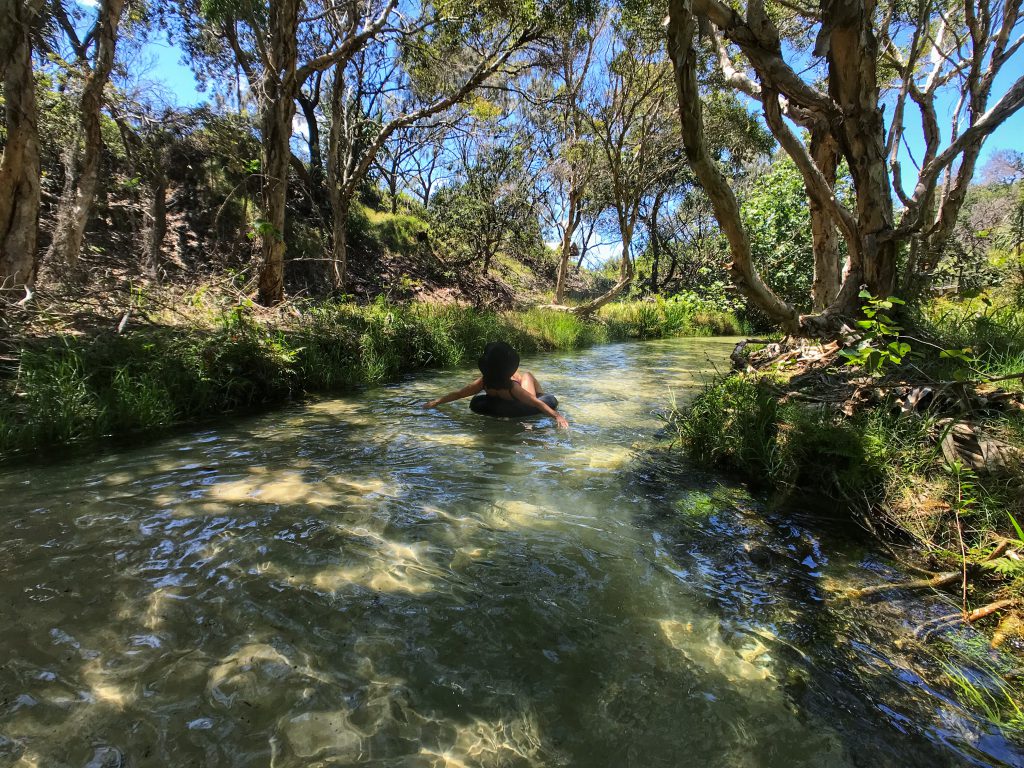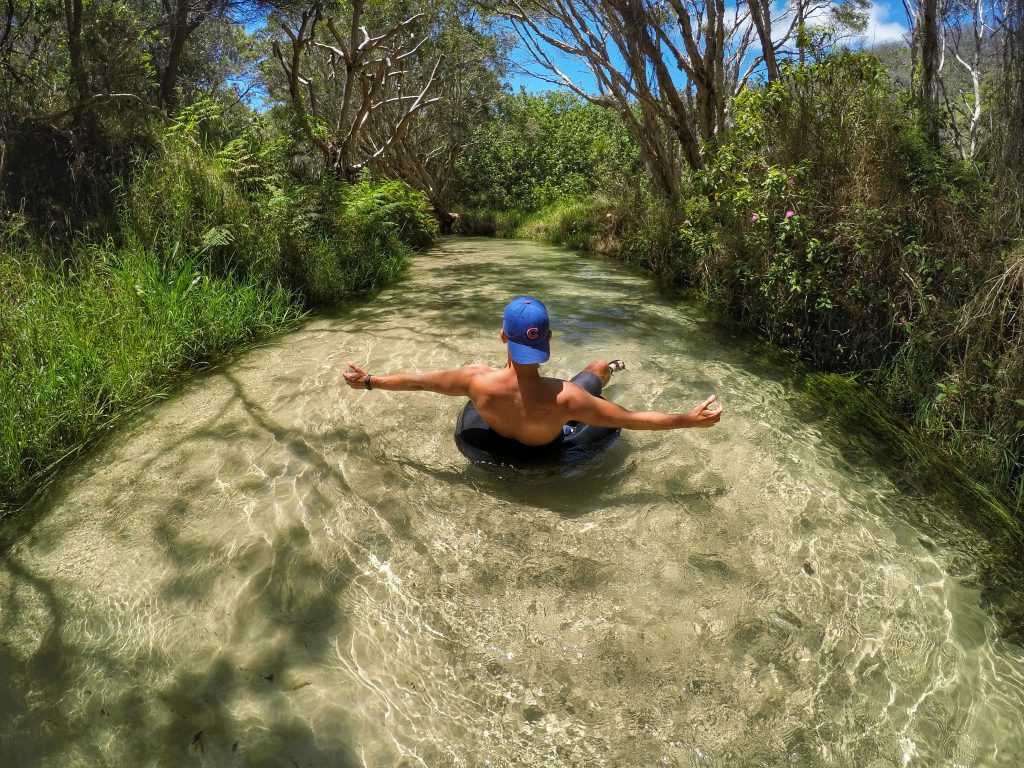 After we had our fair share of floating, we moved on to the Champagne Pools, which are natural rock pools by the ocean, and a great spot to take a dip. We had a chance to relax, wade in the water and watch the waves crash over the rocks.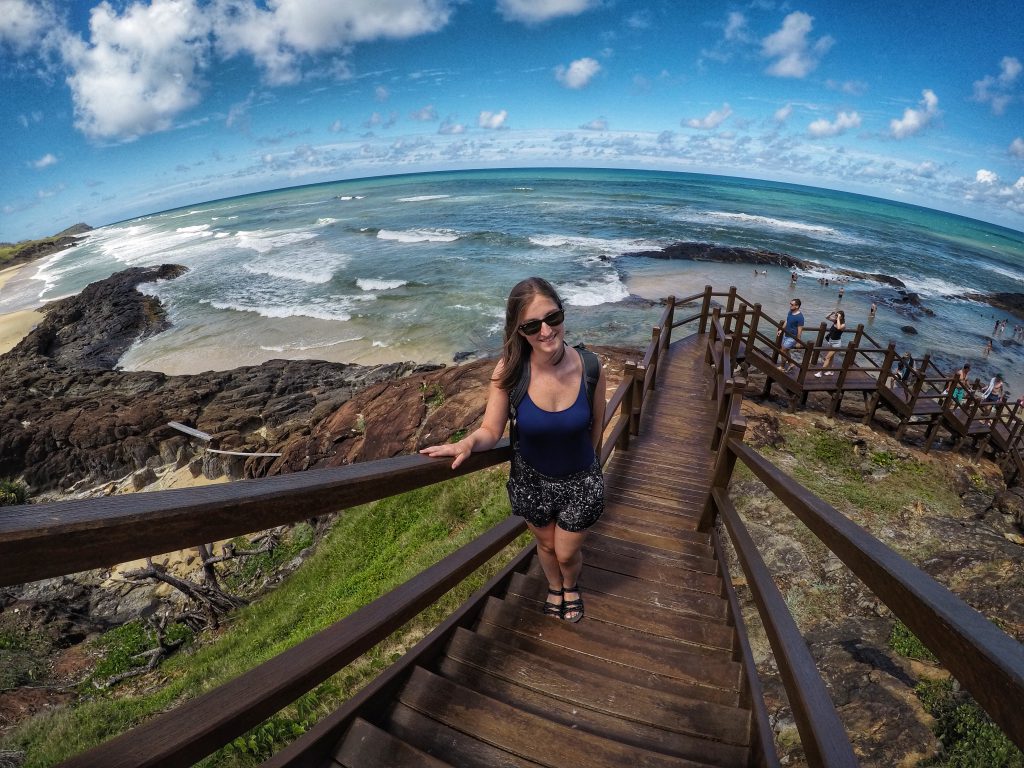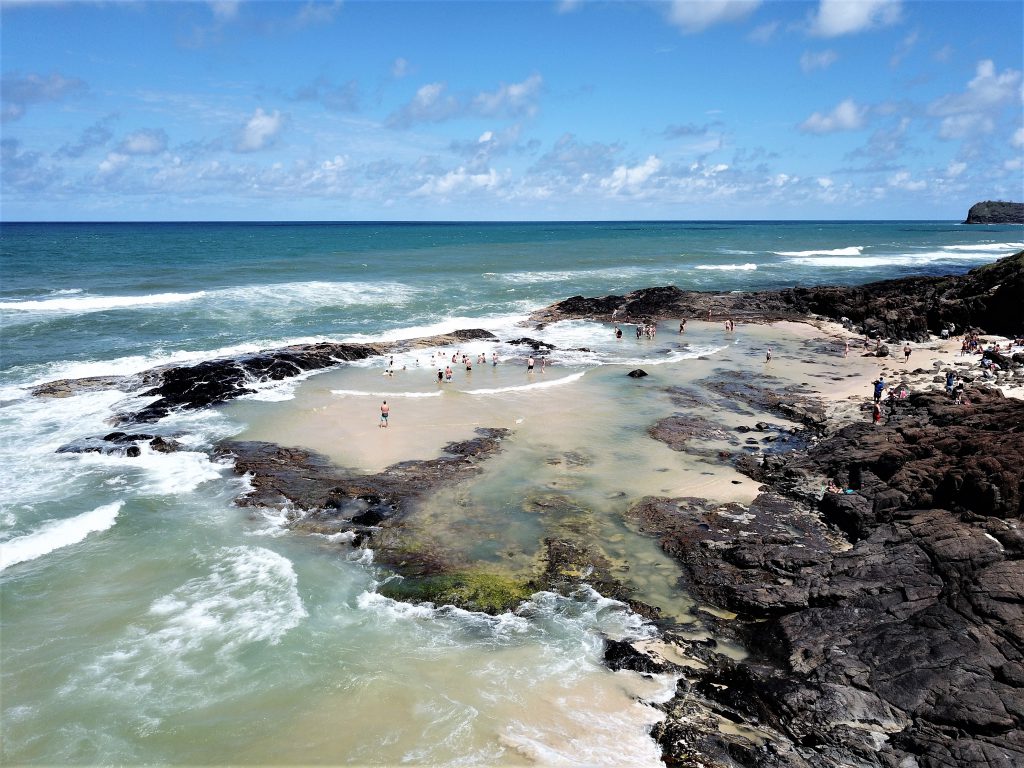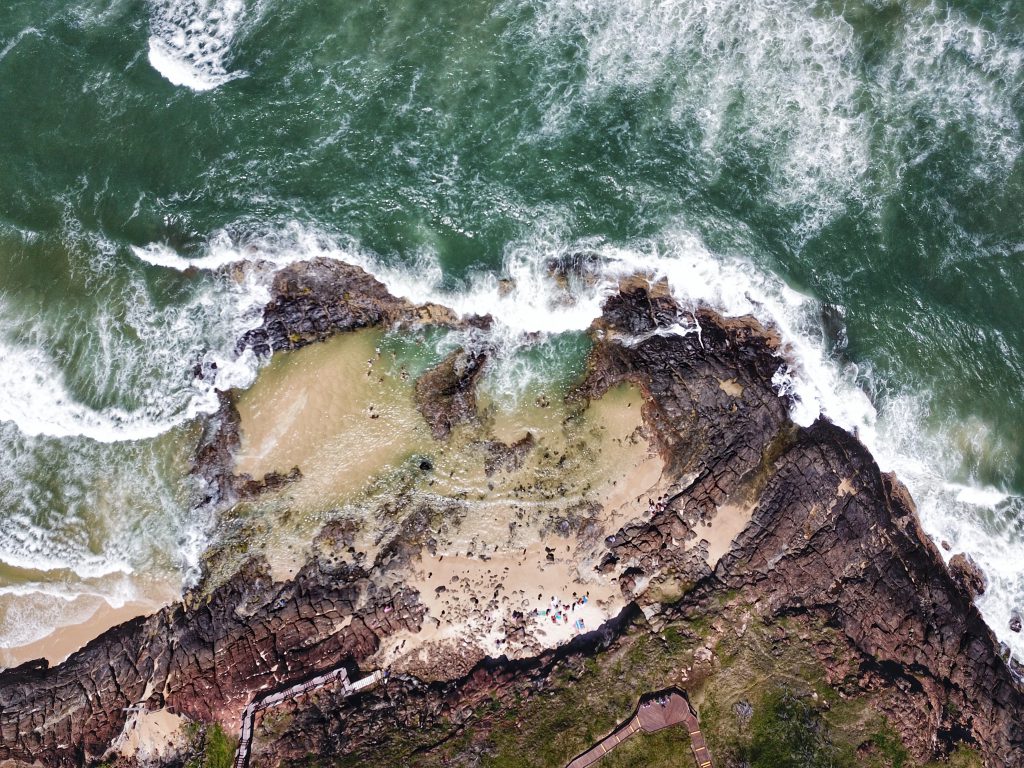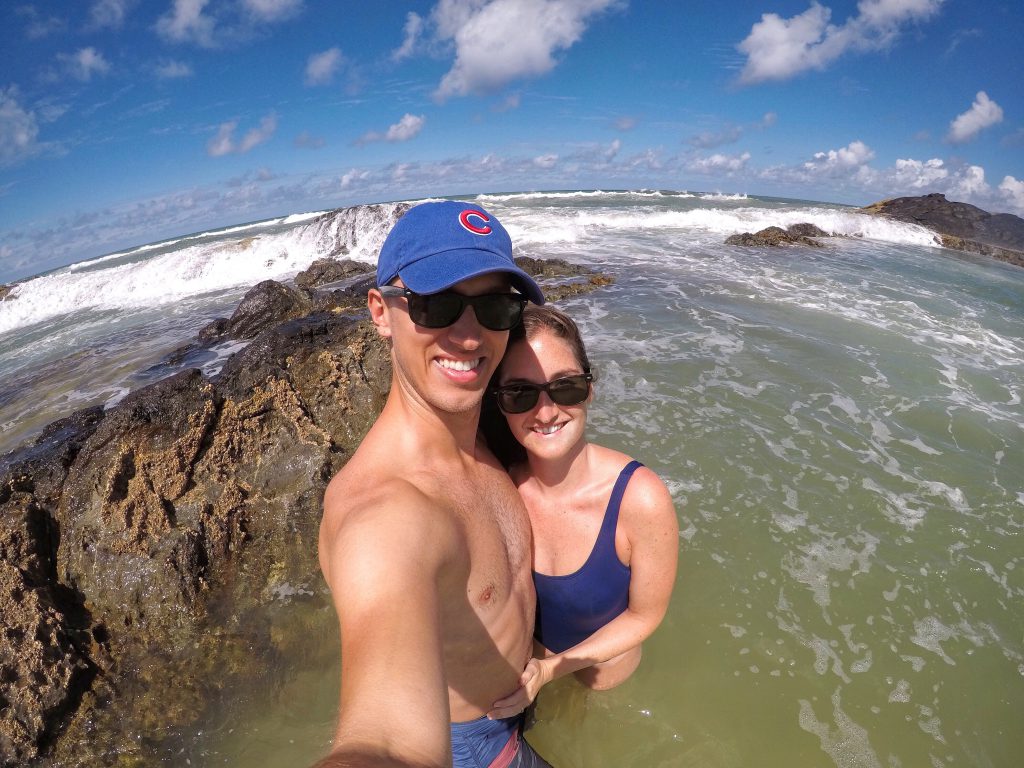 Next, we stopped to climb Indian Head (named by Captain Cook), the most easterly point of the island. From the top, we had panoramic views of the beaches to the North and South, as well as the sand blows to the West.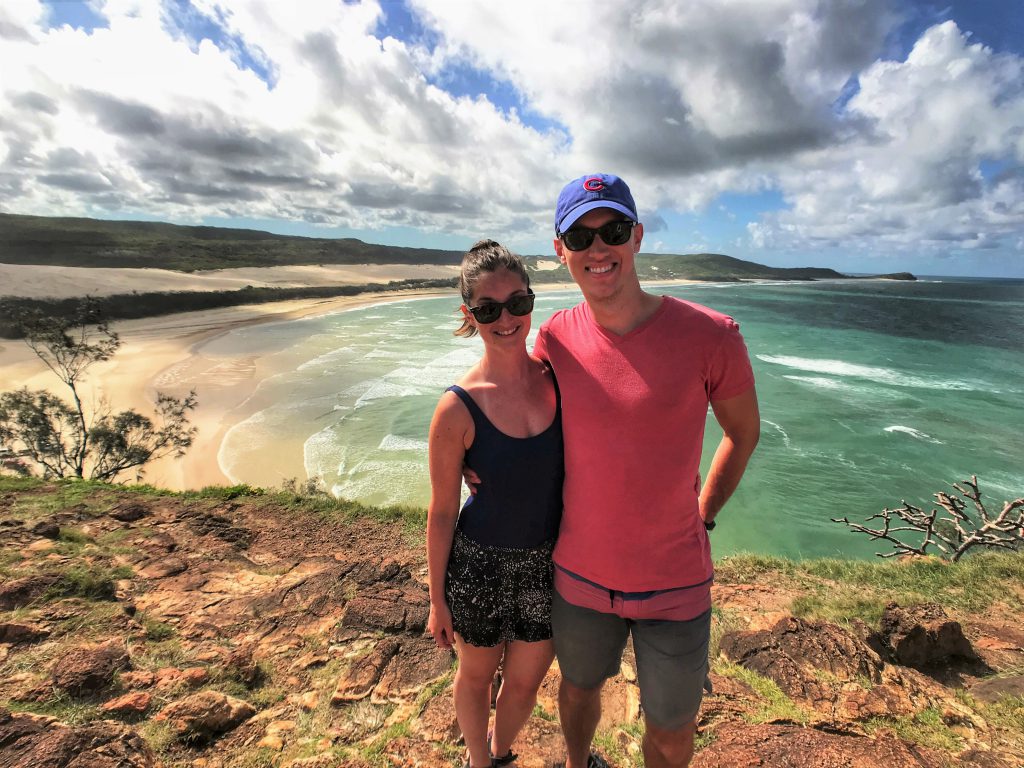 Our final stop of the day was at the popular SS Maheno Shipwreck. Over three stories are buried under the sand, and the rustic remains lay right on 75 Mile Beach.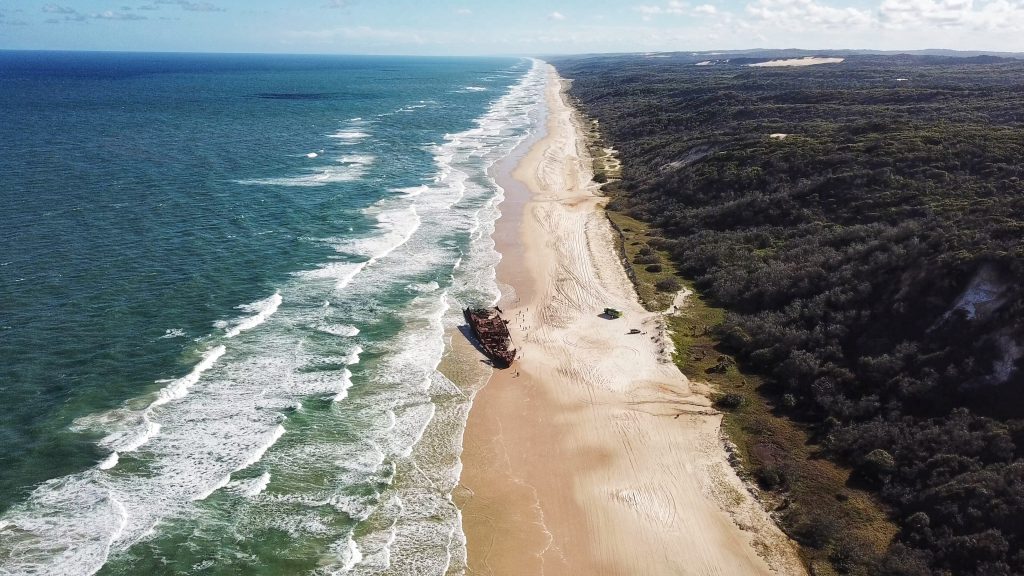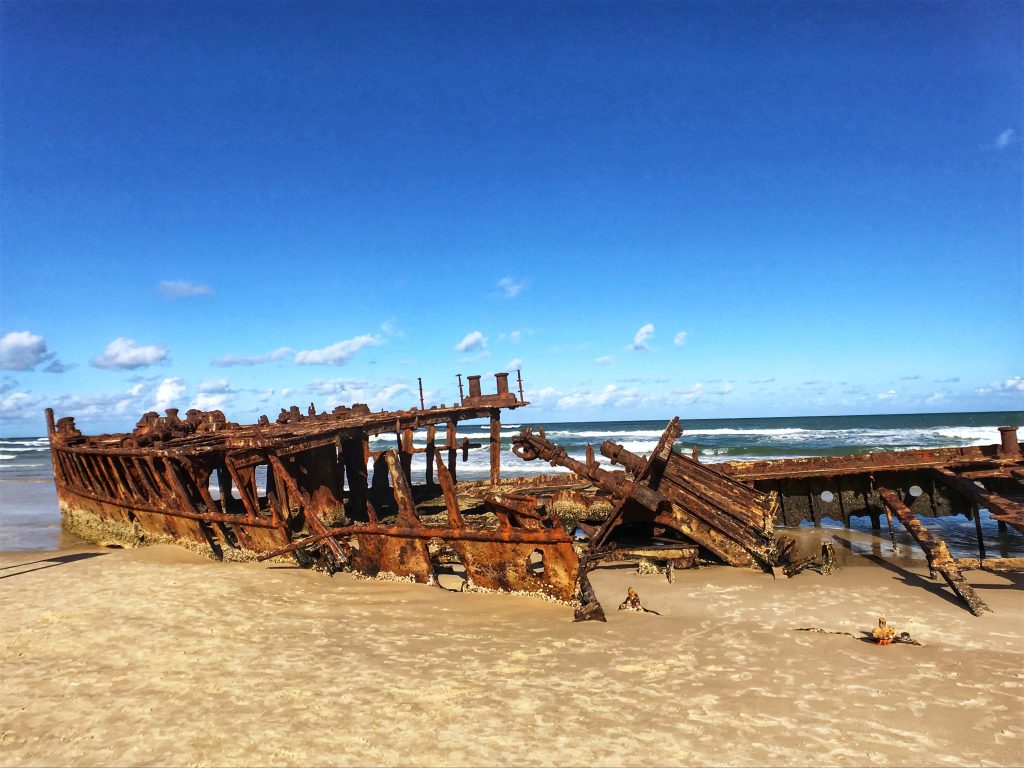 Day 3:
Our final day started with what ended up being one of the most visually stunning sights we have ever seen – the Hammerstone sandblow and Lake Wabby. It's really hard to put into words what it's like to see a lake among sand dunes, next to a forest, beside the ocean. The shifting sands at Hammerstone sandblow are slowly swallowing emerald-green Lake Wabby and are unlike anything we had ever seen. We were happy to have a good chunk of time to enjoy the surroundings here and swim in the lake.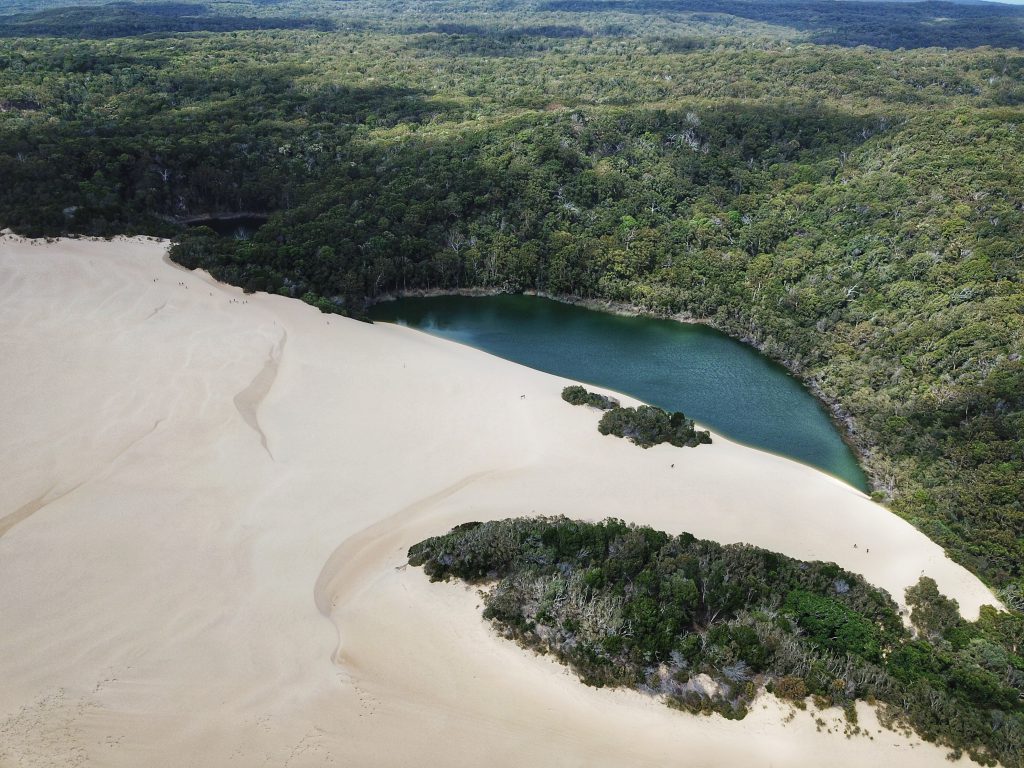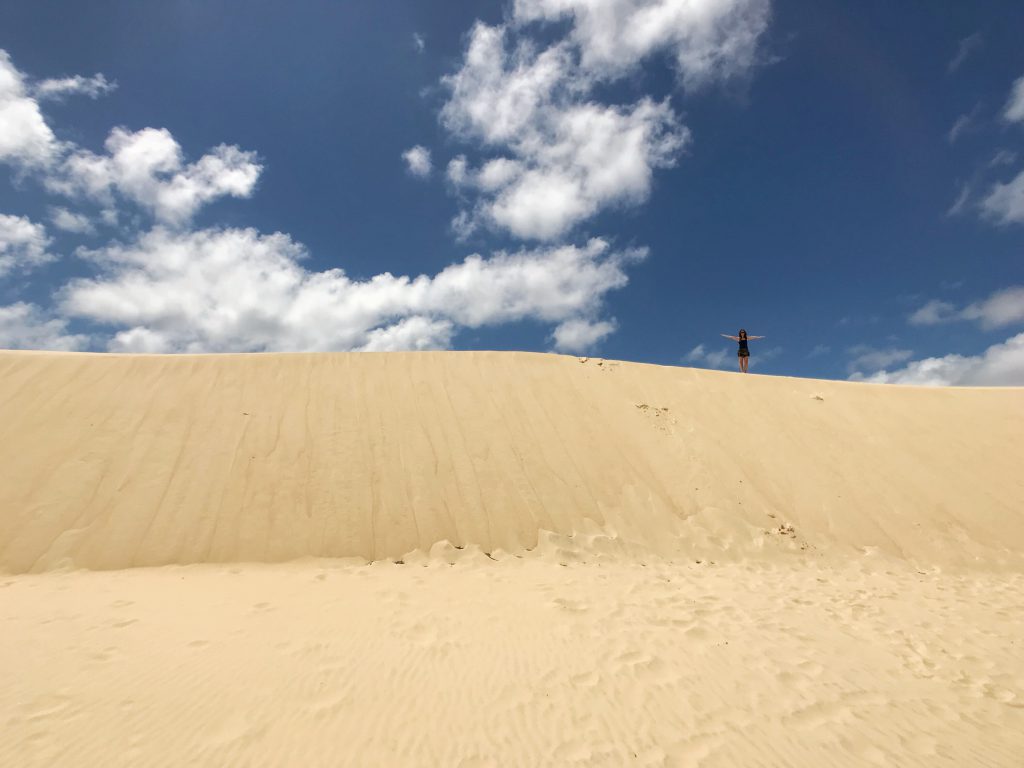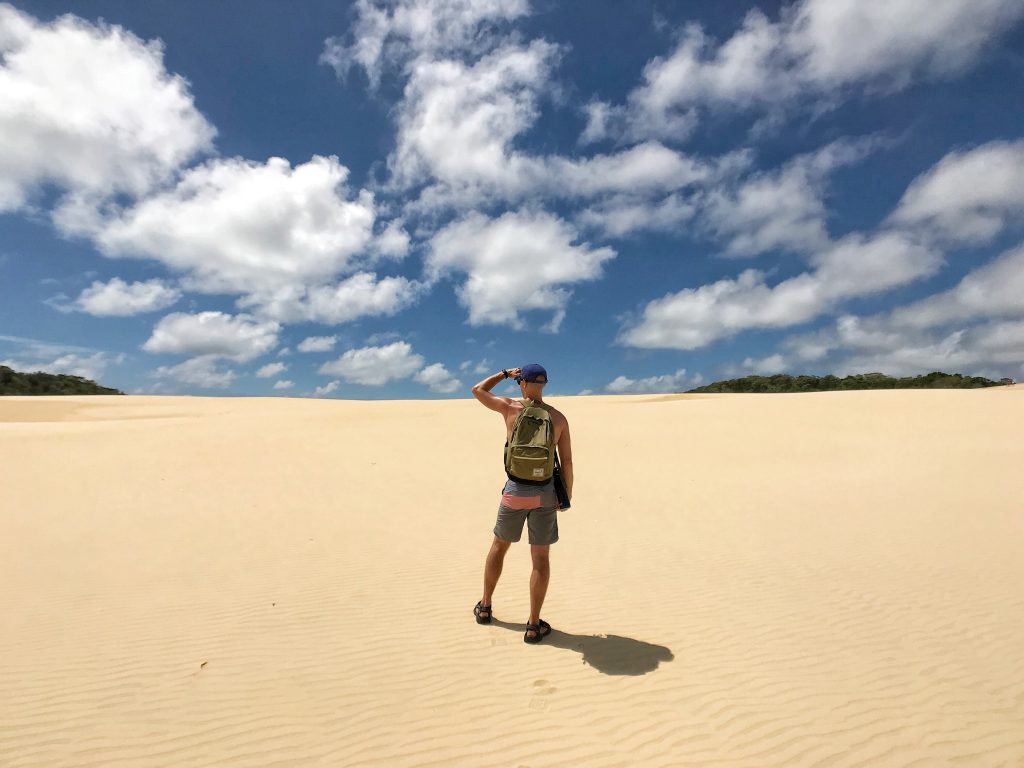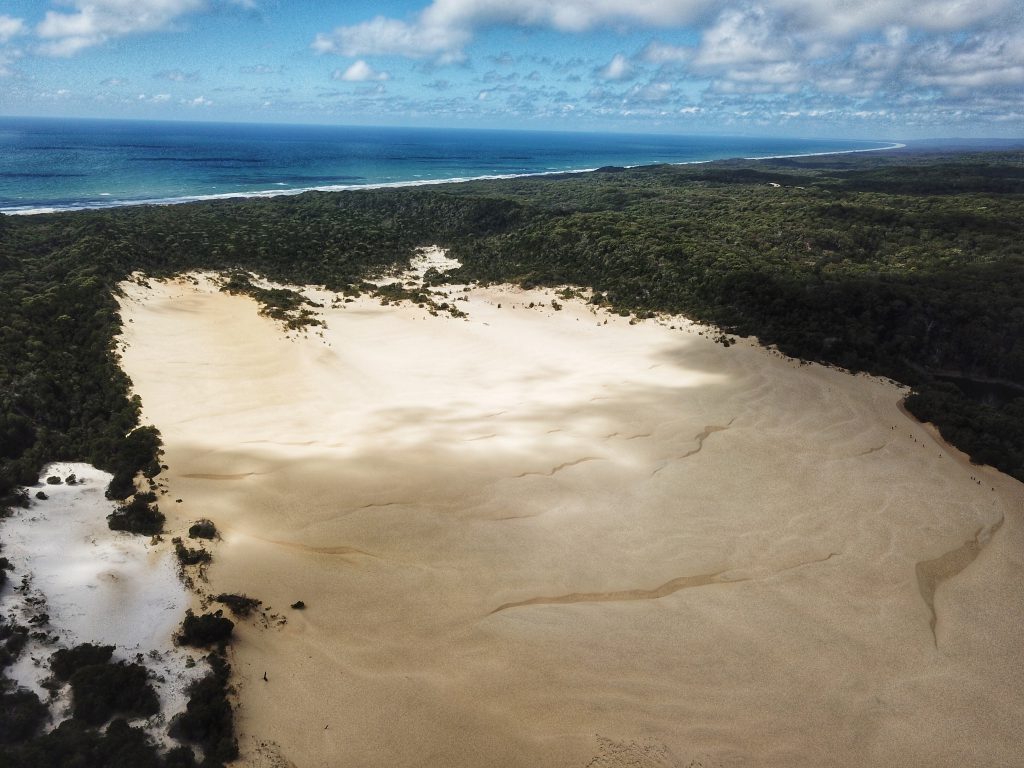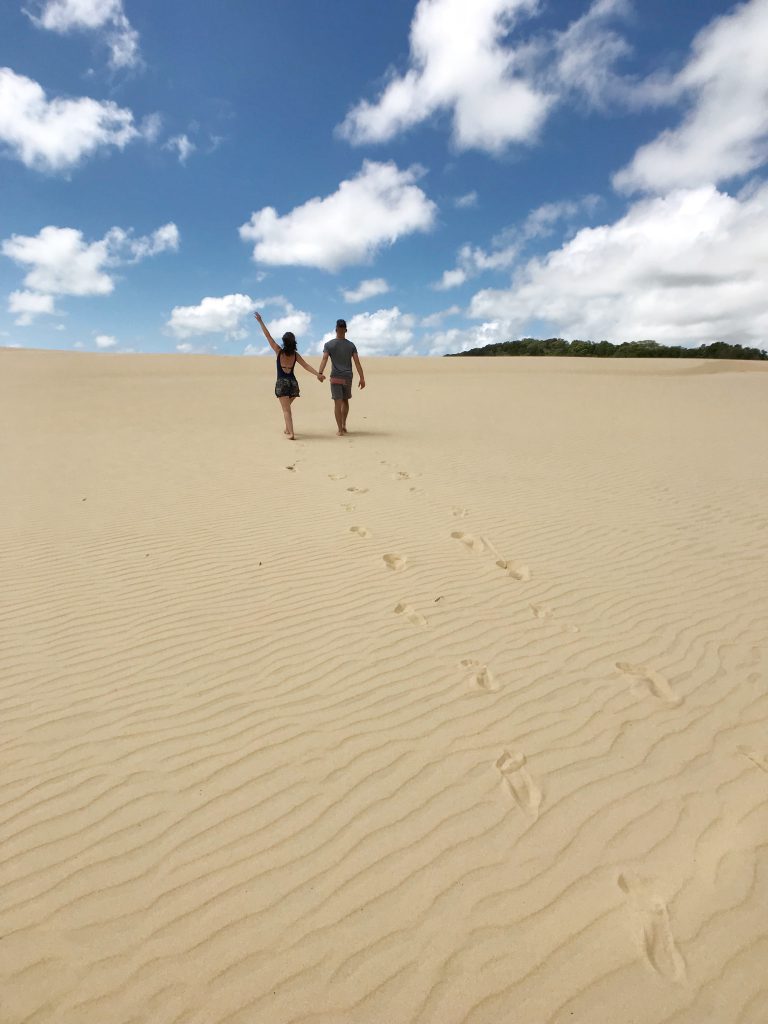 After lunch, we went to our final stop on the tour, which was Lake Birrabeen, where we had a chance to try stand up paddle boarding, swim, or just relax on the beach. It was the perfect ending to a busy and exciting three days.
Accommodations:
Since we skew a bit towards the higher end of the 18-35 spectrum, and because we're working as we travel, we decided to upgrade our accommodations to the Kingfisher Bay Resort instead of the wilderness lodge with the majority of the group. This ended up being a great decision for us since it provided us with ample outlets for our electronics and WIFI so we could work in the evenings. The resort is a laidback, eco-tourism resort with a casual atmosphere, and offered us a quiet place to unwind for the night.
If you like your space and don't mind spending a bit extra, go for the upgrade. Having air conditioning, our own ensuite and the extra space to spread out with our workstations was invaluable. If you do, don't miss out on the buffet breakfast at Maheno Restaurant – it's delicious.
If you're looking for more of a lively, social environment, stick to the wilderness lodge. It's a great way to get to know your fellow group members better – and the Dingo Bar is a lot of fun, with nightly organized activities.
Final Thoughts:
We had a blast with Cool Dingo Tours. They really maximized our time on the island and allowed us to have a stress-free and adventure-filled trip.
Fraser Island is on everyone's must-do list for a reason. It's an oasis with spectacular scenery and excitement around every corner; a place that you need to make time to explore if you ever find yourself on the East Coast of Australia.
We were guests of Cool Dingo Tours, but as always, all opinions are our own.