As Danielle would likely tell you, my packing is a bit all over the place. After I pack my laptop, my favorite t-shirt, and plenty of underwear/socks, the rest of what I pack is usually whatever clothes and accessories are at arm's reach. While this strategy has "mostly" worked for me on past trips, we both decided that it was high time for me to get a bit more strategic in my decision making for our six-month trip.
My packing list boils down to three categories of items. First, and most importantly, are the things I absolutely must-have. From my perspective, this includes a computer, lots of underwear/socks, a few comfortable t-shirts, an outlet adapter, and some swim trunks. There is nothing worse than flipping your underwear inside out for the third time, so being generous with your space for these types of items is essential.
The second category of items includes things that solve a frustration that I'm likely to run into frequently. Remember that the key to this category is that each item has to solve a problem that occurs frequently. If the problem occurs infrequently, don't waste your space. Items in this category include a rain coat, sandals, hanging toiletry bag, beard trimmer, water bottle, storage/luggage locks, cord organizer, a backup hard drive, and sunscreen. As someone who has had a few bad sunburns, take it from me, that you can and will get a sunburn anywhere in the world, and I do mean anywhere. Your best bet is to be prepared so that you don't lose precious travel days recovering from a bad sunburn.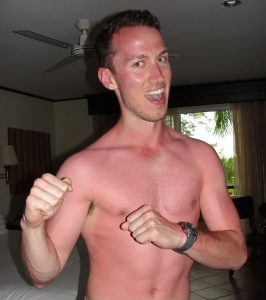 The final category includes items that are not mission critical but will enhance your trip. Items in this category include a drone and portable monitor. As space in your backpack/bag is limited, this list of items should be small and should warrant the most amount of scrutiny as you decide what to and what not to take with you. Every item you bring adds additional weight that you will have to lug around with you, so make sure the juice is worth the squeeze.
Below is the full list of what I packed in my backpack for our six-month trip to Oceania and Southeast Asia. You can see what Danielle packed here.
Clothing and Accessories:
Underwear (14)
Socks (11)
Compression socks (1)
T-shirts (7)
Long sleeved shirt (2)
Shorts (5)
Pants (1)
Bathing suits (1)
Lightweight raincoat (1)
Sunglasses (1)
Baseball hat (2)
Fitbit (1) – this is tied to my life insurance so I can collect points, and doubles as a watch
Shoes:
Teva sandals (1)
Lightweight Runners (1)
Toiletries:
Hanging toiletry bag
Deodorant
Cotton swabs
Lip balm
Sunscreen
Razor
Beard trimmer
Toothpaste
Toothbrush (with cover)
Floss
Medication
Nail clippers
Shampoo, conditioner, body wash, and lotion were packed in Danielle's bag
Travel Gear:
Packing cubes
Turkish towel
Carabiner
Water bottle
Locks for hostels
Luggage locks
Electronics:
Phone
MacBook Pro Laptop (with cover)
Headphones
Drone
Extra Drone battery
Portable monitor
Portable phone charger
Travel adapter/USB adaptor
Backup hard drive
Bagsmart cord organizer – to keep all of our cords neatly organized
Chargers for all
Documents:
Passport
Extra passport photos (for Visas)
Permanent Residency card
Scanned copies of other important documents